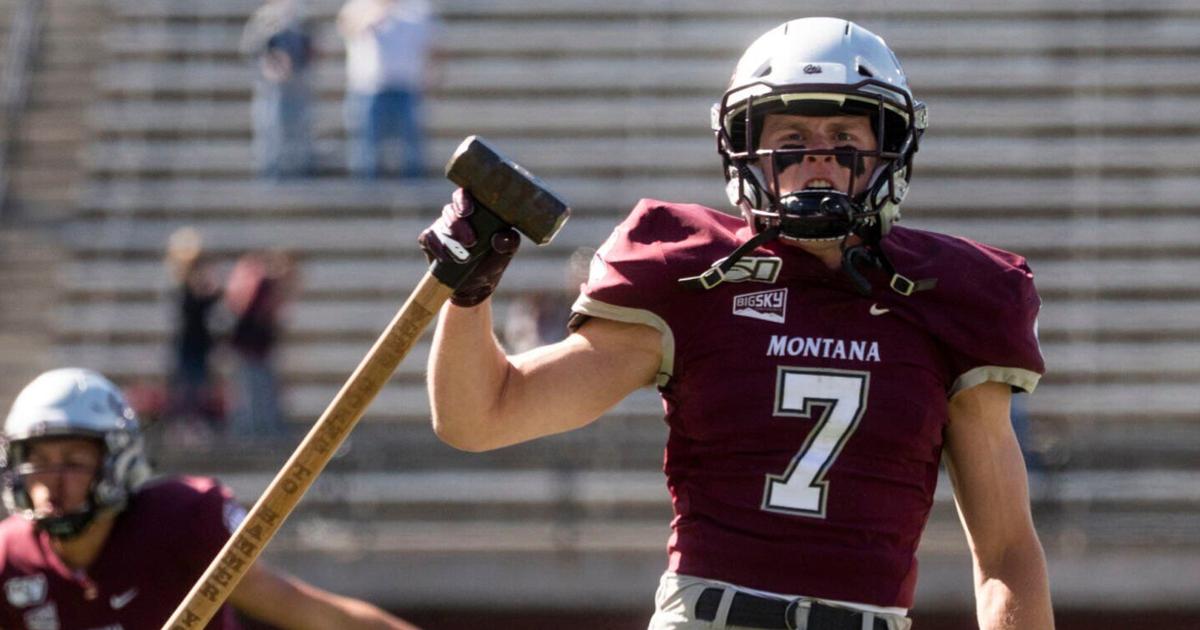 Billings Senior Graduate Gabe Sulser Swaps Montana Maroon for Texas Burnt Orange | Montana grizzlies
BILLING — Gabe Sulser isn't quite sure how or when, but somewhere along the way he became a fan of the lore and what he perceived to be the culture of the University of Texas football program.
Sulser's family occasionally played a game around the house and asked him if he could go play football somewhere, where would he be?
He would answer Texas and wonder what it would be like to be a Longhorn.
In about a month, the former Billings Senior star and Montana Grizzly will find out. On Thursday, Sulser confirmed to The Billings Gazette and 406mtsports.com that he was transferring to Texas after entering the transfer portal last week. The Montana Television Network first reported Sulser's intentions.
Sulser will graduate from Montana on May 14, then pack his bags for Austin, Texas, where he is scheduled to report in late May. Sulser still has two years of eligibility, which syncs perfectly with the two years it will take to earn his master's degree in public affairs.
"It's pretty cool coming full circle," Sulser said Thursday night, recalling those earlier family discussions. "I hadn't necessarily planned it that way, but when I realized I might have the opportunity, I knew I had to take it."
Seeking what he considered a "fresh start," Sulser entered the NCAA transfer portal and contacted Texas, where former Montana State head coach Jeff Choate is the inside linebackers coach and co-defensive coordinator.
Choate attempted to recruit Sulser to MSU, and Sulser scored a touchdown against the Bobcats in 2018.
"It will be nice to know a familiar face and to know someone I developed a relationship with in high school," Sulser said. "It will certainly be heartwarming and it won't feel so foreign to me when I get there."
The Texas coaching staff was ready to give Sulser a try, he said, and it didn't take long for him to make the decision.
Sulser was Montana's Gatorade Football Player of the Year in 2017 and helped the Broncs win Class AA state titles in 2016 and 2017. After graduating in 2018, he joined the Grizzlies and , as a true freshman, caught nine passes for 114 yards and three touchdowns and rushed for 137 yards and another score.
He played six games as a sophomore before COVID hit the following season, which limited the Grizzlies to two games in the spring of 2021. In the fall of that year, Sulser was limited to four games due to knee injury and was able to use the campaign as a redshirt year, leaving him two more years for the Longhorns.
"I'm just looking forward to competing against the best and proving to myself that I can hang on to these guys and help them any way I can," Sulser said. "You know, it helped me to have played against some teams (Football Bowl Subdivision) during my time here, against Washington (in 2021) and Oregon (2019).
"I was able to play in those two games, so I felt pretty comfortable in those settings."
While at Montana, Sulser played in 21 total games, rushing for 165 yards and a touchdown. He caught 35 passes for 414 yards and five other scores, and he averaged 28.8 yards on four kickoff returns and 18.2 yards on 12 punt returns.
Sulser said he was grateful for his time in Montana, but "at the end of the day, it just wasn't the place for me anymore and I wish them the best." I hope they come out next year and win it all. We will always be rooting for them.
As for a role in Texas, Sulser said that hasn't been decided. He said he was under no illusions and knew that passing Montana and the Texas Football Championship Subdivision and the Big 12 Conference would be significant.
He can't help but look forward to the experience, however, now that he has, as he said, come full circle.
"I certainly know it's a heavy level of football, but at the same time it's not just about the football aspect," he said. "It's so cool to be part of a program, so I'm really grateful for this opportunity.
"It's definitely going to be a deal where I'm not going to come in and immediately have an impact role. I'm going to have to earn everything I get, and I'm well aware of that. But I'm really looking forward to it. »