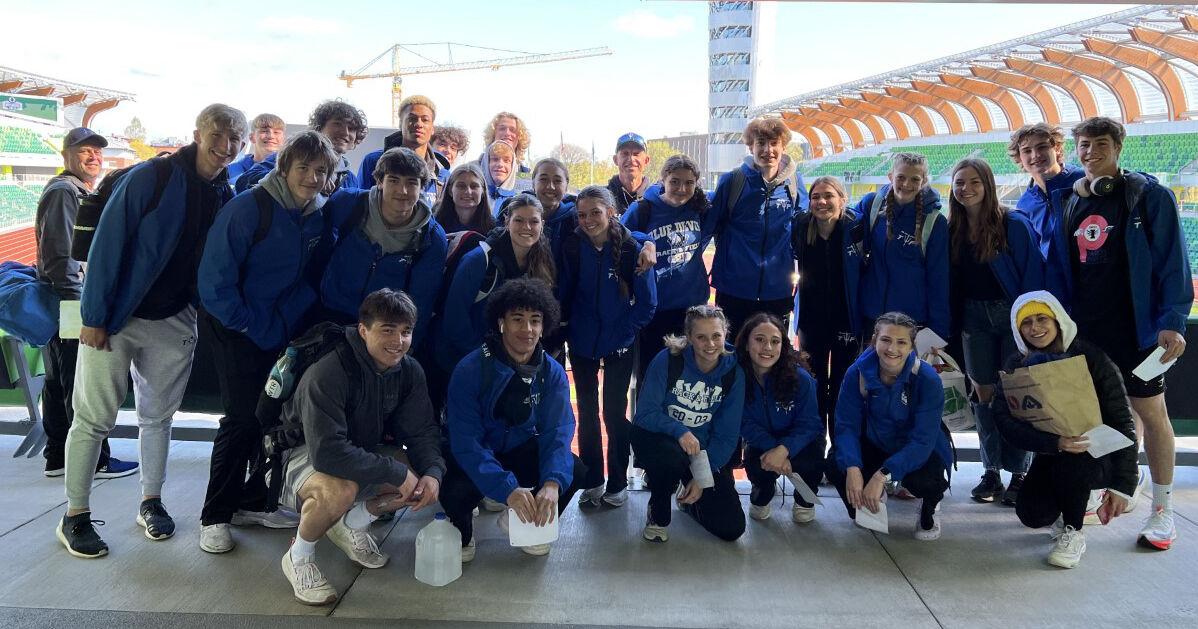 Blue Devil track and field athletes compete in the Oregon Relays | High school sports
EUGENE, Ore. – Twenty-six Walla Walla High track and field athletes traveled to the University of Oregon on Friday and Saturday, April 22-23 for the Oregon Relays.
Blue Devil Dash Sirmon stood out with his javelin victory, setting a new national leader mark with a throw of 213 feet, 2 inches, after previously winning the event.
"It was absolutely brilliant to watch!" said Wa-Hi coach Eric Hisaw. "You knew when it came out of his hand that it was going to be big! He's a great talent, he's a great meet artist!"
The Oregon Relays are an invitation-only event.
"We were lucky to be invited to be part of it! Hisaw said. "Historic Hayward Field has been completely renovated, and after $220 million, it's completely amazing! Our kids were able to be at one of the greatest track and field venues in the world for two days and we competed really well. It was a competition that had teams from Washington, Oregon, Idaho, Nevada, Utah and California…and throughout the competition there was at least one athlete ranked in the top 10 nationally in each event.
"I was very proud of our children," he said. "There are always ups and downs in competitions like this, but it's a great learning opportunity because the stage really can't get much bigger than this!
"Our hope as coaches is that this weekend helps expose our kids to a very pressured encounter, and it will not only calm their nerves later in the year, but build their confidence. And we had very successful children!"
Whitney Griffith finished 10th in discus throw, "and she was the only runner-up in best discus steal," Hisaw said. "She did a terrific job fighting her nerves and throwing extremely well!"
Christopher Norris and Logan Ashbeck had very solid days in the javelin, both finishing in the top 12 with their best throws being their last throws.
"That says a lot about their composure and mental toughness," Hisaw said.
Eddie Vu finished third with a lifetime record in the discus, and Camden McCollaugh had a lifetime record in the shot put.
"It was so exciting to see them throwing one in this meet!" Hisaw said. "They're both on great pace right now and are starting to throw really well.
"Brody Hartley was also exciting, he ran the second fastest time in school history on Friday night!" he said. "He ran with a lot of composure and fought very hard to finish eighth."
Carly Martin had a personal best of three seconds in the 800 meters, and Ava Nelson had a season best in the 400 meters, "and they were both part of a very strong 1,600 meter relay that ran its best time of the year!" Hisaw said. "Other relay members were Jailyn Davenport and Talia Billingsley."
Lucy Kelly placed third in the women's javelin.
"Just like our other pitchers, she's very consistent and in a great rhythm with a lot more in the tank," Hisaw said. "It's going to be exciting to see her finish!
"Our boys 4×4 relays and our girls 4×200 relays also had their best times of the year and still have a lot of room for improvement," he said.
Diego Jacquez finished eighth in his last jump of the long jump.
"He's such a competitor and he really seized the opportunity when needed!" Hisaw said. "A real mark of a great competitor!"