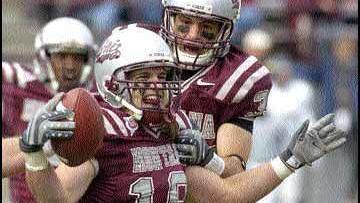 Brawl Echoes: Former NFL Players Recall Cat-Griz Memories | Montana State University
[ad_1]
Editor's Note: The following is a timeless Brawl of the Wild story written in 2010 and updated this month.
MISSOULA – The best thing about Brawl of the Wild with former players is that they usually talk freely.
In some cases, it's downright crude, while others still can't bring themselves to come up with "bulletin board" material.
"You start talking about this game from the final whistle last week," suggested ex-Griz and former NFL kicker Dan Carpenter, a Helena native pretending Bobby Hauck was still. his trainer in Montana. "It's very electric. The crowd is always great no matter where we play."
Former Griz / NFL lineman Levi Horn is more direct in his analysis. Which maybe has everything to do with Hauck, his former trainer and Big Timber native.
To hear Horn and some of his former teammates say it, you'd be hard pressed to find a man more determined to beat the Cats than Bobby. That's saying something when you consider that the teams will meet for the 120th time on Saturday.
"He didn't even let us stay in the same town when we played Bozeman there," Horn said. "He was taking us out of town.
"He was like, 'I want to hoist the trophy in front of their fans. I want all of these fans to know why we are Montana and that they are the little stepbrother. And guess what? Never beat us.'"
Some call it overkill. But it works both ways. Just ask Bozeman native and former Bobcat linebacker Dane Fletcher, a former member of the New England Patriots.
"It was the biggest games of my life every year, and it was chaos," he recalls. "It was a ruthless game, no matter where we played it."
Over the years the rivalry caused players and coaches on both sides to behave in unusual ways. Fletcher remembers how he and his teammates skipped class in the days leading up to the game.
"We felt it was necessary to take the time to think carefully," he joked.
Hauck would go to extremes to motivate his Griz on his first stint as head coach. Like the time he brought in an unexpected song ensemble for practice.
"He brought his kids and nephews over and sing a little fight song about how much they hated the Bobcats," said Colt Anderson, an ex-Griz and NFL security from Butte. "It was a song about how the state of Montana sucks. we're pretty excited. "
Shann Schillinger, a former Griz and NFL safety who currently serves as safety coach for Montana, had more than one special memory of training.
"The coach would bring in a former player during Griz-Cat Week and he would talk about what the game meant to him," he said. "It gives chills to think about it.
"I remember before my junior year we had a flagship movie the Friday night before the game and the coach edited a video of former players. Guys like Tim Hauck, Kroy Biermann, Lex Hilliard, all these guys were there and talked about what it was. It was one of the coolest things I've ever seen and I wish I could get my hands on the video. "
Former Griz and CFL quarterback Cole Bergquist remembers a promise Hauck made before the 2007 Brawl of the Wild.
"He said if we won he would smoke a stogie after the game on the Montana State field," said Bergquist, a successful real estate agent who lives in Missoula. "Indeed, he was a man of his word.
"Everything he said the week Cat-Griz was so genuine. He was like, 'If we move forward, we're going to increase the score' and he would."
Travis Lulay is a Bobcat who can look with emotion at the Cat-Griz rivalry. He was in command when Montana State ended a 16-year-old skid in the 2002 Brawl of the Wild. Then his team went on to win back-to-back wins in 2003 at Bozeman and the only Seattle Seahawk came out in style in 2005, winning as a senior.
Lulay bolted Bozeman many years ago, but he hasn't forgotten his victories over Montana.
"My first year we had the streak of trying to end and I remember a touchdown pass we had in the first set of the first quarter," he said. "It was a low scoring game, the game ended 10-7, and it was the score that kept us winning. Then, my sophomore year, Corey Smith returned the kickoff opening for a touchdown for us.
"It was cold every year until my last year when it was 55 degrees on game day and it was just a bowl of mud, a sloppy mess in Bozeman. But I remember vividly the other games were cold – my first year at Missoula it was like a blizzard, the snow was blowing sideways. My second year at Bozeman was the coldest game I have ever played. It was something like 8 degrees at kickoff . "
Ken Amato would like to share his fond memories of Cat-Griz from the '90s. But like many former Cats, his teams never got over the bump against a program from Griz who enjoys a 69-35-5 advantage in series.
"We pretty much missed two chances to win the game the two years I was there," he lamented. "But Grizzly Stadium is probably one of the funniest places I've played."
Over the years Cats and Griz have shown that they will try almost anything to get each other's goat. Flea flickers, half-back passes, double backhands – you're bound to see something unusual every time they meet.
But when it comes to all-time surprises, Montana may have taken the cake in 2008. That's when he walked out of the Washington-Grizzly Stadium tunnel clad in copper and gold. gold, the old school colors he relegated to the attic after winning a national title in 1995.
Can one color make so much of a difference when both sides are already seeing red? Anderson thinks so.
"It's always brought up, whenever the game comes up," he said. "Even talking to some of the guys from Montana State, they were just in awe and didn't know what to think.
"They see us warming up in our usual colors and then all of a sudden they thought a different team was running out of the tunnel in old school colors. Mentally I think they felt like to be beaten already. "
Most players involved in Cat-Griz are like ex-Miami Dolphin 'Cory Procter – proud to have simply been part of the tradition. Proud even if playing conditions like "freezing cold" and "ice patch" come up often.
"It's typical of Montana," Procter said. "Playing in the frozen tundra and fighting. It was always great."
Perhaps there is no better way to gauge the importance of nature's brawl than to ask a non-state. Someone like Procter, who is from Gig Harbor, Washington, or Horn, who grew up in Spokane.
Horn went to the University of Oregon after high school. While at Eugene, he learned a thing or two about intrastate rivalries and what it means for the Ducks to bring down the beaver prank from Oregon State.
Yet for Horn, nothing compares to the state of Montana-Montana.
"Coming from Oregon and hearing that our rival was the state of Montana, I was like, 'OK, whatever. It's another rivalry, "he said. "But it's not just another rivalry.
"They call it the Civil War in Oregon. But Montana and the state of Montana, there's a lot more depth. There are families divided. Like the Verlanics – we're talking about serious bragging rights."
Alex Verlanic was the Griz's senior starting center in 2010. His brothers, Andrew and Connor Verlanic, were young reserve linemen for the Cats that year. A cousin, Jim Verlanic, was a two-year-old starter for the Bobcats. Two other cousins, Karl and Ciche Pitcher, were playing in Montana.
It's a bit long to digest at once. But not as hard as a belly full of humble pie, served every year from Verlanic to Verlanic in Drummond or Anaconda and in Montana homes every Thanksgiving.
"There's really nothing like it when it comes to rivalries," said former Griz / NFL All-Pro Marc Mariani, who grew up in Le Havre. "It's an amazing experience to be a part of it."
Bill Speltz is the sports editor of Missoulian and has been a Sunday columnist for the past 15 years. Do you have a story idea? Email Bill at [email protected]
[ad_2]