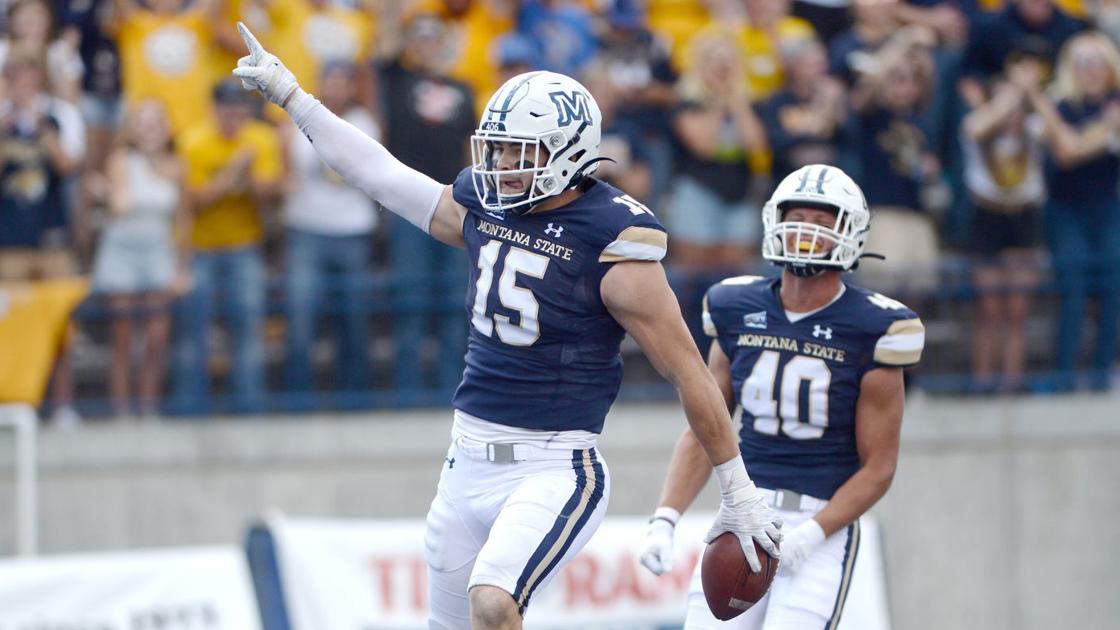 Five things to watch out for: Montana State to Portland State | Bobcats MSU
BOZEMAN – The Montana State football team is above .500 entering the Big Sky game, thanks to resounding wins over Drake and San Diego over the past two weeks. The 13th-ranked Bobcats (2-1) will visit Oregon this week in hopes of maintaining their winning record this season while hitting 0.500 in another category.
MSU has a 7-8 record against Portland State. The Bobcats and Vikings (1-2) will meet for the 16th time on Saturday at Hillsboro Stadium, which unlike last week will not serve free beer donated by PSU head coach Bruce Barnum. The game is scheduled to start at 3:05 p.m. MT. It can be broadcast on ESPN + and heard on the Bobcat Radio Network and msubobcats.com.
These two teams last met in 2018, when Troy Andersen's 211 rushing yards led MSU to a 43-23 victory (Andersen was a quarterback at the time and now plays linebacker). It was the Bobcats' first game at the 7600-seat Hillsboro Stadium.
"I hope the mood is good," Andersen said last Saturday. "I know the last time it looked like we had more fans than them. It will be fun to start.
Here are five things to watch out for in Big Sky's opener for both teams.
The offense of MSU
Yes, the whole offense, as the 11 Bobcats will play a big role in trying to beat PSU's Flex defense.
The Bobcats with the biggest responsibilities will be quarterback Matthew McKay and the offensive linemen. The O-line has arguably struggled the most in any MSU position group so far this season, and the last two opponents (Drake and San Diego) are winless and have less delicate defenses than PSU.
The Flex, designed by Dallas Cowboys Hall of Fame coach Tom Landry, is tough for even former Landry players to explain. The Flex led by PSU defensive coordinator Payam Saadat often puts more defensive players in the box than the offense has blockers. At least one linebacker stands above a guard, playing 'on the heels of defensive linemen' while the other linebackers are placed deeper, MSU head coach Brent Vigen said on Monday. .
"This will be, I guess, the first quirk we've seen. It's not something that a lot of people run, "Vigen said. "If you have the right players, especially linebackers who are flexed out of the line, they can be difficult to deal with just because of their lineup. They play a little further. I guess the challenge is to treat them like linemen even though they're standing, but their proximity to the line of scrimmage (is close)? Or do you treat them like a linebacker when they're now much closer than a typical linebacker? "
Vigen noted that his five offensive linemen could be tasked with blocking PSU defensive tackle VJ Malo, who has 5½ sacks in three games this season.
"It's a defense that, broadly speaking, poses challenges," said Vigen. "They approach you from different angles, they give you different looks on the cover, and we have to be on the same page. Our guys need to know what they're doing, and they need to be able to do it as fast as they can.
Bobcats back
In a fall full of injuries, MSU finally had some positive health news. Defensive back Tyrel Thomas and offensive lineman Cole Sain will adjust after missing virtually all of the first three games.
Thomas suffered a knee injury that required surgery during fall camp. The elder has been listed as the starting nickelback before camp, and defensive coordinator Freddie Banks said on Tuesday Thomas would play nickel in the future.
But Ty Okada thrived at nickel in the first three games, so Thomas will have plenty of cornerback playing time. He's listed as James Campbell's save corner on this week's two-depths table.
Sain is also listed as a backup, center behind Justus Perkins. Sain was also there on the previous two depth charts, but he didn't play against Drake or USD after getting injured in the last minute of the season opener in Wyoming.
Sain was playing left guard when he fell, so if he has any playing time at PSU, he could be next to Perkins instead of him.
Alex Johnson and Rylan Ortt
MSU didn't lose any starters to injury in the game against USD, but oft-played 'Will' linebacker Nolan Askelson was injured early and spent the rest of the game on the sidelines on crutches. and a walking boot. Vigen said: "I suspect we're going to be without him for a while."
Safety Without Safeguard Kendric Bailey also wore a walking boot due to an injury he sustained before the game, and he needed a scooter to get around. Vigen said Bailey "will be out for maybe a week or two more here, but we'll get him back." Vigen praised Bailey's performance on special teams in the first two games.
Redshirt rookie Alex Johnson will replace Askelson, a 6-foot-1, 220-pound senior Billings graduate, on the depth board behind Bozeman's Callahan O'Reilly. Johnson, a Helena graduate, weighs 6-3 and 203 pounds, the same weight as fellow freshman Rylan Ortt. The 6-1 Ortt, a graduate of Missoula Sentinel, is strong and free backup security on this week's depth chart.
MSU has given most of its reps of non-trash time to rookies to linebacker and safety, so Johnson and Ortt might not see much of the field against PSU. If they are replaced for non-injury reasons, it will reflect their performance in training well and further illustrate the desire of the coaching staff to use deep rotation.
MSU special teams
After a strong performance in the 19-16 loss to Wyoming, MSU's special teams units played under a dim spotlight for the next two games. That could change against a seemingly tougher opponent on the road this week.
After the game against USD, Vigen criticized a kickoff from freshman Blake Glessner that went out of bounds. The error occurred long after MSU took control of the game, but Vigen, still the coach, didn't want it to be forgotten. A game like this can make the difference in a close game.
Glessner also missed a 41-yard field goal last week and missed an extra point against Drake. Those off-target kicks might not signal anything serious, especially as Glessner converted the rest of his PAT and three of his other four field goal attempts, including an MSU record 53 yards against Wyoming.
But any potential crack in MSU's special teams could be revealed on Saturday.
Handsome Kelly
PSU's most prominent players are quarterback Davis Alexander and defensive back Anthony Adams, and Malo has been excellent. But slots catcher Beau Kelly has arguably had the best season of any Vikings so far.
Kelly leads the Big Sky in receiving yards (344), touchdown catches (four) and is tied for first in receiving (20). The 5-9, 165-pound junior tallied 132 receiving yards in Hawaii and 152 in Washington State. Both opponents are in the FBS.
Okada will likely cover Kelly for chunks of the game, but MSU will almost certainly throw multiple players at her and use various covers. Thomas could be the Bobcat best equipped to slow Kelly down, making his comeback even more important.