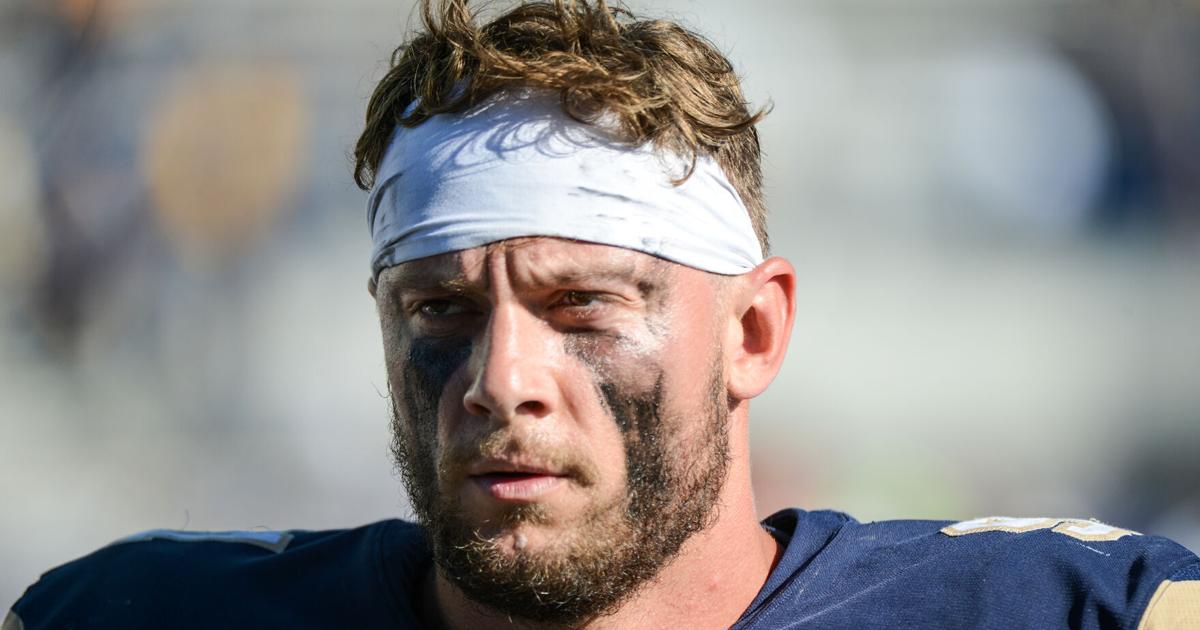 Former Army Ranger Devin Slaughter energized Montana State on and off the field | MSU Bobcats
BOZEMAN — Devin Slaughter isn't a rah-rah, inspirational talk guy, but he became one at an opportune time.
Slaughter could sense a low level of energy from his teammates as they sat in their locker room before their Big Sky Conference football game against UC Davis on Oct. 1. Kick-off was not until 8:25 p.m., and the weather was cold and rainy in the pre-match warm-ups. This prompted Slaughter, a walking defensive lineman, to think about his time as a U.S. Army Ranger.
"In the military, they teach us that the best time to attack someone is at night and in bad weather," Slaughter told 406mtsports.com on Tuesday. "It's when everyone is lazy. Nobody wants to do their job. Everyone wants to be complacent at times like this.
Slaughter said the same to his fellow D-linemen in the locker room as they prepared for the Oct. 1 kickoff. Their energy quickly increased.
"We told him, 'You have to tell the whole group,'" MSU D-end David Alston said Monday.
Forced slaughter. This time he added intensity and a few curses to his battle cry.
"We were excited," Alston said. "We were ready to go after that."
That speech, which photographer/videographer Hunter Green shared on Instagram, introduced Slaughter to many Bobcat fans. Slaughter joined the team in the spring, and several factors kept him from seeing much playing time this fall.
But Slaughter, 24, has increasingly boosted the No. 4-ranked MSU (5-1, 3-0 Big Sky), from his pre-game speech to his Army-forged discipline to his Intense physical style of play.
"He's amazing. Someone who brings that level of discipline. Someone who commands so much respect," Alston said. "You've seen the viral video, but it's so much more than that."
"I wanted to test myself"
Slaughter timed his first MSU season well. On September 17, the Cats played Oregon State at Providence Park in Portland, Oregon. Slaughter is not only from Beaver State, he tried to join the Beavers football team during his year as an OSU student.
"I was pretty excited to come in" on September 17, he said. "I don't know any of the guys on that team anymore or anything like that, but it was cool to go out there and compete. I had a lot of friends at the game and family.
Slaughter was recruited by several Oregon schools (OSU, Oregon, Linfield, and Southern Oregon) as a senior at Sisters High School. One day in the fall of 2015, he injured his back doing deadlifts. The injury progressively worsened throughout the year and kept him from lifting for a significant period of time. He went from 220 pounds to 180 pounds, and college interest dropped accordingly.
"It was pretty heartbreaking for me because all I wanted to do was play football," Slaughter said.
Slaughter enrolled in OSU and joined the school's Army Reserve Officers Training Corps (ROTC). His back healed and his weight dropped to 235 pounds, so he tried to join the football team after the 2016 season. He participated in winter training but quit the team after a few months because he was not doing well in school, he said.
Slaughter left OSU and spent the summer of 2017 in Alaska doing commercial fishing. This matched the other strenuous activities he had tried: football, ROTC and fighting forest fires. He wanted to be pushed out of his comfort zone.
This also explains why Slaughter became a Ranger. His uncle served in the military and he was drawn to the military lifestyle.
"It was always something I knew I was going to do at some point. I just had to do it," Slaughter said, adding, "I always wanted to test myself, and that was the big deal with the military. I was seeing all these other guys who looked really badass, and I was like, 'Man, I wonder if I could do this, if I would have what it takes to get through this?'
Slaughter began training in the military prior to his employment in commercial fishing, and he enlisted in early 2018. He went to Georgia for basic training and advanced individual training, then joined the diver program. Ranger Assessment and Selection (RASP). He deployed to Afghanistan in 2020, at the height of the COVID-19 pandemic.
Slaughter belonged to one of three Ranger regiments that alternated deployments, so he returned to the United States after six months. He would be more than willing to return there in the event of a war or something similar, but the school came back into focus during his time in Afghanistan.
Culling applied to OSU, Oregon, Vanderbilt and MSU. He had never been to Bozeman, but he ticked several boxes: it was close enough to home for his liking, a friend of his attended MSU, and the Gallatin Valley is more rural than those other three places.
"I knew the school had a really good veterans program, and I just wanted to get away from the west coast and all the political COVID stuff and just be somewhere a little freer," he said. -he declares.
Slaughter is studying finance ("I love learning about money, the stock market, cryptocurrency, real estate," he said) and spent most of last school year in as a student. He also worked as a bouncer at Rocking R Bar. This job brought him back to football.
delta strength
MSU offensive coordinator Taylor Housewright attended a bachelor party in Bozeman earlier this year, and the group met up at the R Bar. It didn't take long for him and his pals to notice Slaughter, who looked quite the bouncer: 6-foot-3, closer to 300 pounds than 200, all muscle. Slaughter's chiseled right arm is covered in tattoos, while his equally tall left arm has that of a snake cut into pieces, a Benjamin Franklin cartoon "Join, or Die."
Housewright struck up a conversation with Slaughter and learned all of his remarkable story. When Slaughter indicated he had unfinished football business, Housewright got his number and set the wheels in motion.
"We just started doing the math and we were like, 'There's still time. There's still meat on the bone here," MSU D-line coach Shawn Howe said Monday. "Once we did all the paperwork and all the health issues, we were like, 'OK, you haven't played football in a very long time. We're going to have to teach you how to be a football player again.
Slaughter joined the Cats in April, about two weeks after spring camp began. Half an hour into his first practice, Slaughter blasted through a slide and prepared to hit a tackle dummy when he heard a pop. His hamstring was torn.
Slaughter felt embarrassed and he knew he couldn't afford an injury, given he hadn't played football in over six years.
He spent eight weeks recovering, returned to fall camp, and then injured himself again. This injury was not as serious, but it put him further behind.
"I was always pretty physical in high school, always pretty strong, and I think that's what I have going for me," Slaughter said. "As far as improvements go, it's just technical. Seeing these other guys in front of me who are younger than me and are so good at it, I think it was good for me to jump with them. It just pushes me to try to learn and improve every day.
Slaughter saw little playing time in the first four games, except for lost time in MSU's 63-13 win over Morehead State in Week 2 and blocking duties on field goals/ point attempts afterwards. But he had an impact behind the scenes. Whenever Alston feels a lack of energy, he remembers what Slaughter went through. This cures demotivation very quickly.
"What I like about Slaughter is you can tell he's a lot more mature, he's spent time at a high military level," Howe said. "It's not just blatant intensity. It is a very well thought out intensity. He is very lively. He is very calculated.
One of the cats who looked most energized by Slaughter's pre-UC Davis speech was quarterback Sean Chambers. Wyoming's transfer passed and rushed for more than 200 yards apiece in the 41-24 victory.
Slaughter played down his impact on his team's performance that night. The following week, he had a much more direct effect on an MSU win.
At Housewright's request, Slaughter lined up in the backfield with offensive lineman Omar Aigbedion in the first quarter of Saturday's 37-6 win over Idaho State. The formation, which MSU calls "Delta," produced a touchdown run from Chambers.
Slaughter appeared on offense later in the game, again in the traditional fullback position but with no other lineman in the backfield. Tight end Derryk Snell converted a fourth try and 1 on the play.
"It's probably quite intimidating from a defense perspective," Slaughter said. "I love it."
More than anything, Slaughter is happy to be healthy and on a football team after spending so much time away from sports.
"It's similar to the military in that your schedule is regimented. It's hard, but it keeps me in line," he said. "I love being with the guys. I love being with the coaches. The energy and the vibe here is really great. I felt like at Oregon State there were more selfish individuals there. down, while everyone here is on the same page. Everyone here just wants to succeed.
It will be tough for Slaughter to break MSU's deep D-line rotation this season. Luckily for him, he has another year of eligibility after this one.
Whatever his performance on the pitch in the future, he has proven his worth from an intangible perspective. Especially during night matches.
"He's been an integral part of this team now, and I think his perspective on what it means to go into battle is completely different than any of our other guys," MSU head coach Brent Vigen said. , Monday. "His intensity about it, but also his appreciation of coming back and being able to play a game again that I don't think he thought he would ever play, it all rubbed off on our team.
"So really appreciate it. What he has brought to this team is as much off the playing field as it is on the playing field."