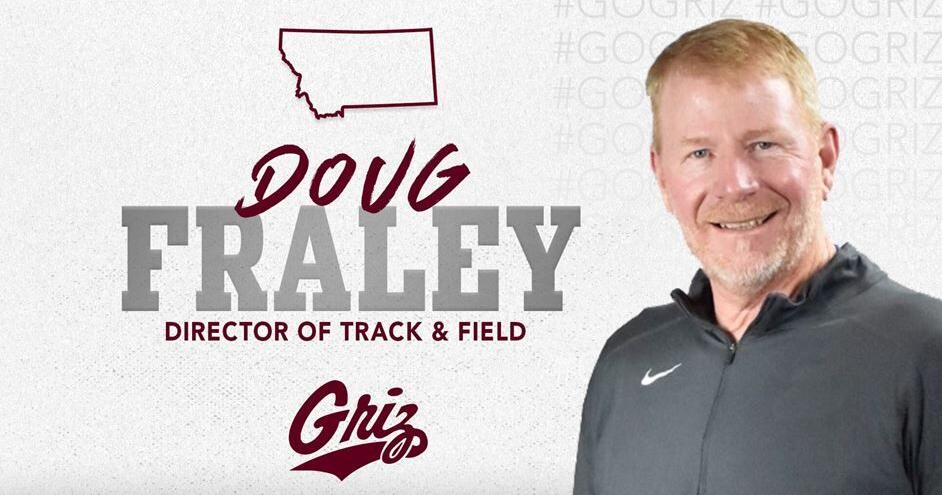 Fraley selected to lead Montana Grizzlies athletic programs | Grizzlies UM
MISSOULA — Doug Fraley has been named director of athletics for Montana.
During his 12-year college coaching career, most recently at Washington State, the veteran pole vault coach helped develop 17 NCAA Championship qualifiers and 10 All-Americans.
"I owe a huge thank you to (athletic director) Kent Haslam and (financial director) Ryan Martin for guiding me through this process and for believing that I am the right person to take on the athletics programs. and cross country at the University of Montana," Fraley said. "It's a huge honor for me, and something I'm extremely grateful for.
"I can't wait to pick up this program and take it to the next level."
It was only natural that Fraley got into training. After all, he grew up watching his dad become a Hall of Fame track coach at Fresno State.
For Fraley, athletics is what he has known for as long as he can remember.
"Before I could even walk, my mom would take me to the track and I would crawl through the long jump pits and eat sand while watching dad practice," Fraley recalled.
He was raised on the track, following his father in training and learning from one of the sport's great mentors. During his 28-year coaching career, Bob Fraley produced 44 All-Americans at Fresno State, was named 2003 NIKE USA Coach of the Year, and was inducted into the Fresno Hall of Fame. State Athletics and US Pole Vault.
Bob was not only a coach at the college level, but also a coach for his son. Right from the start, he built a jumping track in the backyard and a pit for Doug to practice in, which clearly worked as planned.
At the age of 7 in 1972, Doug sent an inter-age record in a competition involving athletes aged 5-19 from 39 different countries, with a record of 6-1.7. By the time he reached eighth grade, he had grown over 11 feet.
Doug then competed at Fresno State, where he was coached by his father and became a five-time All-American and three-time NCAA champion in the pole vault.
"My dad has opened so many doors for me, and just being associated with him in this way has exposed me to so many great coaches – his mentors and now my mentors – who have helped me so much. that I became a coach," Doug said.
The call telling his parents he got the job was a highlight he will always remember.
"As proud as they've been of me, throughout my years and all of my accomplishments, I don't know if I've heard them get more excited and proud," Doug said. "It was a very big moment for our family."
Doug Fraley began his college coaching career at Tulane, where he spent nine seasons with the Green Wave (2011-19). As an associate head coach – specializing in men's jumps, multi-events and sprints – Fraley developed 24 NCAA East Region qualifiers, seven NCAA Championship qualifiers and five All-Americans. He was also instrumental in the development of five academic All-Americans, in addition to assisting with strength and conditioning for the sprint and jump groups.
In his final season at Tulane (2018-19), Fraley's pole vaulters swept the podium at the American Athletic Conference Indoor Championships. Along with a pair of freshmen, who placed second and third, Rebekah Markel won an individual title after setting competitive and school records. She would repeat as champion in the outdoor season that spring and qualify for the NCAA championships, where she placed 14th.
A few seasons prior, in 2017, Alyssa Applebee won the AAC Indoor and Outdoor Conference Championships before earning first-team All-America status at the nationals. Fraley has also coached Merritt Van Meter (2013 outdoor, 2014 indoor in pole vault) and Devon Breaux (2015 long jump) to All-America status. Also a men's sprints coach, he helped his athletes reach the podium in 2017 and 2018, including a school record in the 4×100 meters relay.
After nearly a decade of training at Tulane, Fraley moved across the country to the Palouse, where he spent three seasons in Washington State. Working with the Cougars' multiple jump and event groups, Fraley found success again, helping to develop 10 NCAA championship qualifiers and five first-team All-Americans. Competing against the ever-challenging Pac-12 Conference, he lifted five athletes to the podium, including 2022 pole vault champion Jacob Englar.
Raised by a trainer, athletics have always been a part of Fraley's life. However, after spending 25 years living in Louisiana, his move to Washington made him realize that the Northwest was the geographic location where he and his wife, Erica, wanted to put down their roots permanently.
He began to aspire to become a head coach, but with a caveat: the opportunity had to come in Washington, Oregon, Idaho or Montana.
One of Fraley's first priorities after arriving in Missoula next week will be filling out his coaching staff. In addition to a vacant pitching vacancy, Fraley will also hire the Grizzlies' next cross-country head coach. With the cross country season just weeks away, however, he will oversee the program until a new coach is in place.
"Even though in my mind I felt like I was ready and prepared for this challenge, you never know if you're going to get this opportunity," Fraley said upon becoming head coach. "I was overjoyed when I got the call. The first thought was how much my wife and I felt we could make that desire come true, especially in a place like Missoula, and the second thought was that I couldn't wait to go."