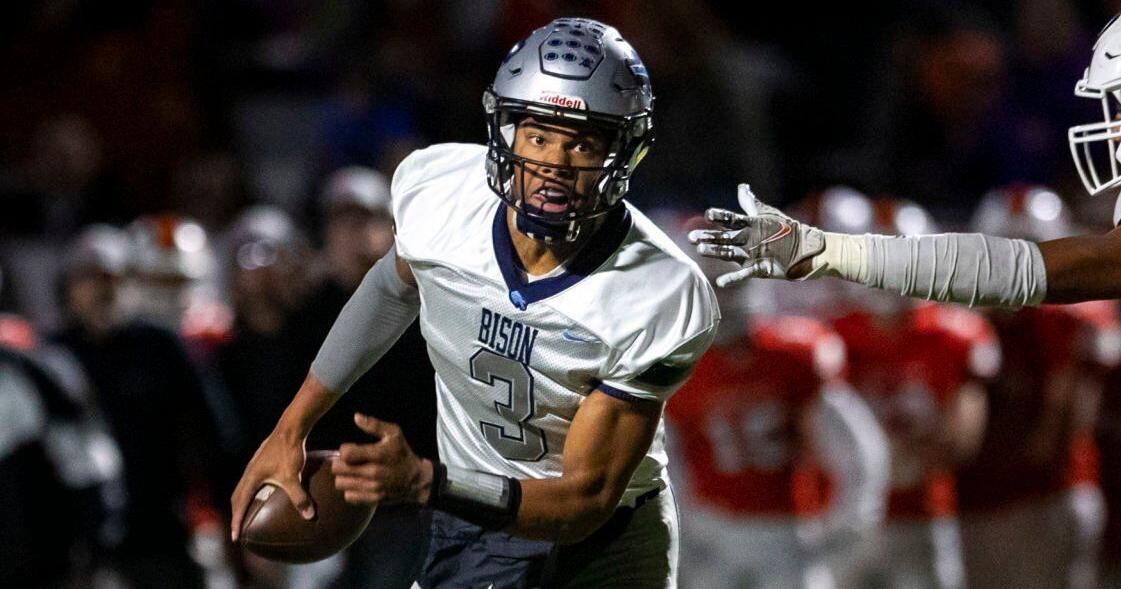 Great Falls' Reed Harris excited to play new position and 'represent Montana' at Boston College | Montana State Bobcats
BOZEMAN – Reed Harris and the Great Falls football team will have a good problem in the fall.
Harris is an all-state quarterback, although he earned his all-state athlete status. The junior didn't overwhelm Class AA with his passing prowess, but with his dynamic dual-threat ability and strong defensive skills on safety. His height (6-foot-5, 210 pounds) and speed (4.5-second 40-meter run) were enticing to college recruiters; mostly in positions other than QB.
Harris announced his commitment to Boston College on Thursday. The three-star rookie plans to play wide receiver for the Eagles, he told 406mtsports.com on Friday. Not only has he never played that position in Great Falls, but he has no intention of playing it in his senior season.
Harris may feel some pressure to line up at receiver in the fall, as will his coaches. But he and Great Falls head coach Coda Tchida say they're comfortable with him remaining QB. Harris will have time to work on his extended skillset, and his talent could make up for lost time.
Right now, Harris is less focused on position and more on playing in the Atlantic Coast Conference, one of the best in the Football Bowl subdivision.
"It's always been a dream to play in the FBS, taking on all the competition from states like Texas or California," Harris said. "It's going to be really cool to represent Montana when I get out there and start competing against all these other guys."
Some schools have expressed interest in Harris as a tight end, he said. His size fits the profile of a future college tight end, but he's almost too quick for the position – his best 40 time was clocked at 4.48 seconds, he said, and his personal best time in the 100 meters is 11.14 seconds. There aren't many receivers at any level with his frame and speed.
Harris, of course, isn't locked into receiver for the rest of his career, as he's seen up close. Troy Andersen thrived as a quarterback, running back, outside linebacker and – more recently – inside linebacker during his storied career at Montana State. Former Great Falls football coach Mark Samson thought the outside linebacker would have been a good fit for Harris at the college level.
"If the coaching staff needs me to play tight end or be a standard tight end in a spread set, I think that would be something I would be interested in," Harris said. "If one position doesn't work, you can always try another and see how it goes."
For now, BC wants Harris as a receiver, and the Eagles' interest in him was the main reason he signed up.
"They were looking for a tall type of receiver, and they said I was a perfect fit for what they needed," Harris said. "They made me feel like I would have had a great home there."
Harris has also received scholarship offers from other Power 5 programs at Oregon State and Iowa State. Other FBS offers came from Central Michigan, Colorado State, San Diego State, and Utah State. MSU was one of several schools in the football championship subdivision to expand its offerings, along with the Harvard and Big Sky Montana, Idaho, and Idaho State programs. NAIA's Montana Tech also offered Harris, who is Montana's highest-ranked freshman and the 48th-ranked athlete nationwide for the Class of 2023, according to 247 Sports.
Harris considered UM and MSU, and the Bobcats were almost his first choice because he "really liked their coaching staff," he said, especially head coach Brent Vigen. Iowa State was also near the top of its list.
BC became the favorite after making an unofficial visit to Chestnut Hill, Massachusetts two weekends ago.
"I got to meet all the coaches, and they were all great," Harris said. "I felt like I had a really good relationship with them. I also got to see one of their spring training sessions and the spring game, and it was fun to see how things worked at the level of the ACC.
"They really made me feel like I was a top priority for them. After I got back, I spoke with my mom and told her that I thought I was ready for this.
The more than 2,400 miles between British Columbia and Great Falls was "the only bad thing" about it, he said, but it became a minor issue. His sister, Alison, attends Macalester College in Minnesota and told him she got used to the distance after about a month (Harris moved from Minnesota to Montana when he was 1).
Playing in a different state also appeals to Harris. Montana hasn't sent many athletes to FBS programs since Great Falls CMR and Washington State graduate Ryan Leaf, who was the No. 2 pick in the 1998 NFL Draft.
"Guys ask me where I'm from, I say I'm from Montana, and they're a little skeptical because they don't even think Montana is actually a real place," Harris said. "To be able to represent the state like Troy Andersen and Ryan Leaf did, it's really a great opportunity."
Harris won't be able to sign with BC until December, but the commitment will likely ease the stress. He will look to improve on a 2021 season in which he completed 114 of 202 passes (56%) for 1,544 yards, 12 touchdowns and nine interceptions, according to MaxPreps. He also rushed 122 times for 537 yards (4.4 yards per carry) and five touchdowns and had 22 tackles. He hasn't caught a pass in his high school career.
While Harris will remain a QB, Tchida will try to get him receiver reps during games. The former receivers coach also plans to work with Harris outside of games and practices. He is confident that Harris will become a good wide regardless.
"He's so athletic and he's more than willing to put in the time," Tchida said. "Great Falls High hasn't had an athlete of his caliber in a while."