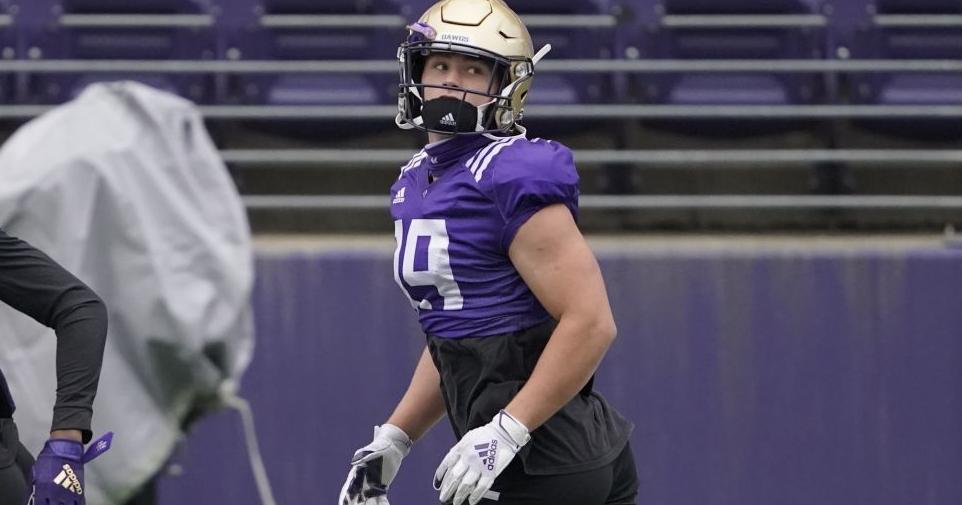 Griz notebook: Montana secures Washington WR transfer pledge | UM Grizzly
MISSOULA – Montana bolsters their receiving body with the addition of a transfer from the Washington Huskies, who was a three-star athlete coming out of high school.
Sawyer Racanelli, who announced his engagement on Twitter on Wednesday, has four years to play in his three remaining eligibility seasons. The move to Missoula, which comes after UW hired Kalen DeBoer to replace head coach Jimmy Lake, reunites him with tight end Peyton Brammer, who was his teammate at Hockinson High School in Brush Prairie, Wash.
"All glory to God, GO GRIZ. Let's go back to @ PeytonBrammer3, "Racanelli wrote in a tweet.
Racanelli is a 6-foot-2, 210-pound spread who spent two years at UW before entering the transfer portal on December 13. He played two games as a true freshman in 2020 and appeared in 11 of 12 games in 2021, mostly on special teams. He made five tackles and failed to catch a pass in his two seasons with the Huskies, who were upset by UM in Game 1 of the 2021 season, 13-7.
Coming out of high school, Racanelli was the nation's No.21 athlete by 247Sports and ESPN's No.50 athlete despite missing his final year with a knee injury. He eclipsed 1,000 receiving yards over three seasons, helped Hockinson win two back-to-back Class 2A State titles, and was named the Associated Press as a Junior Class 2A State Player of the Year. .
Racanelli's dad, Josh, played Portland State quarterback for Chris Petersen, a former head coach at Boise State and Washington. Racanelli is the first known transfer addition this offseason for the Griz, who signed 12 high school players at the start of the December signing period.
Buck stops here
Montana linebacker Pat O'Connell has gone from a two-sport Division II athlete to one of the FCS's top defensive players.
He will know if he has been voted the best defender in the subdivision at 5.30pm MT on Friday. He is one of three finalists for the Buck Buchanan Award, which will be presented at the Stats Perform FCS National Awards Banquet in Frisco, TX on the eve of the FCS National Title game.
O'Connell, who was a junior in 2021, won three All-America first-team accolades and two All-America second-team accolades this fall. The Buck Buchanan award vote came after the regular season, in which he tallied 91 tackles, 19.5 tackles for a loss, a Big Sky-best 13 sacks, three forced fumbles and a defensive touchdown.
After making two playoff games, O'Connell finished the season with 22 loss tackles and 14 sacks, both of which are mostly by a MU player as Tyrone Holmes had 24 TFLs and 18 sacks in 2015. His TFL and his sacks are the most by a Griz linebacker since 1994, the earliest online records, while his TFL are fifth overall and the sacks are sixth overall in that streak.
O'Connell began his college education as an athlete in two sports playing football and baseball at Division II University of Mary in North Dakota, as he was not recruited by the head coach of then Bob Stitt from Kalispell Glacier. He continued with the Griz after coach Bobby Hauck was hired in December 2017, was named MU's Defensive Scouts Player of the Year in 2018 while wearing red shirts and became a starter in 2019 as a defensive end / hybrid linebacker.
Other Buck Buchanan Award finalists are Montana State linebacker Troy Andersen and Florida A&M linebacker Isaiah Land. Former Griz players to win the award are linebacker Dante Olson (2019) and defensive end Kroy Biermann (2007); Holmes (2015) took home the award when it came to the FCS Stats Defensive Player of the Year award.
The time of the window
Omar Hicks Onu and Dylan Cook, who were seniors on the 2021 UM team, will compete at the College Gridiron Showcase Saturday through Wednesday in Fort Worth, TX.
The CGS puts the seniors of FBS, FCS, Division II, Div. III and NAIA in front of over 100 professional scouts from the NFL, CFL and other professional leagues. They can perform team and individual exercises, participate in one-on-one meetings, attend meetings and possibly scout interviews.
Cornerback Hicks Onu had 43 tackles, 11 missed passes and one interception in 13 games in 2021, his only fall season at UM after being transferred from Oregon state. Cook held the right tackle for two years after being transferred from MSU-Northern, where he was a quarterback.
Go elsewhere
Colorado State quarterback Todd Centeio, who received an offer from MU on Dec. 21, signed with James Madison on Thursday for his final season of eligibility.
Centeio went 3-10 as a starter at Colorado State in 2020 and 2021 after being a Temple substitute in 2017-19. Last fall, he completed 60.3% of his passes for 2,960 yards, 15 touchdowns and 10 interceptions, as he ran for 437 yards and two scores.