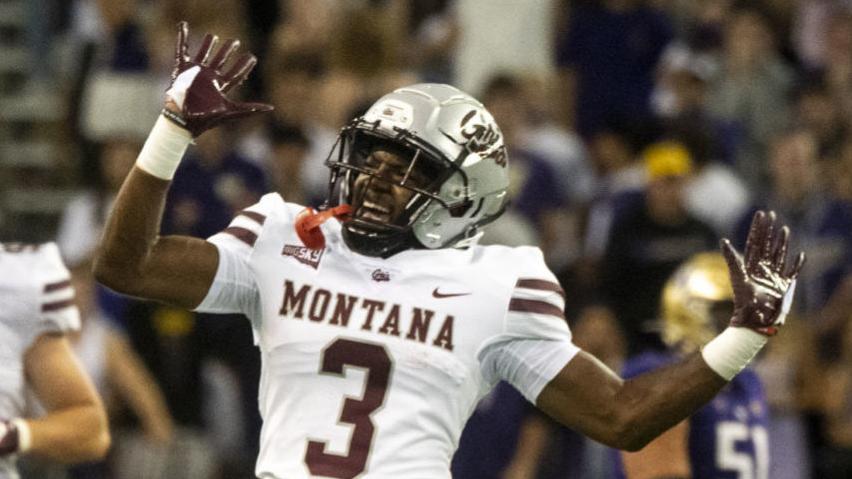 Griz Q&A: Sophomore TraJon Cotton secondary padding from Montana after transfer from Oregon State | UM Grizzly
[ad_1]
MISSOULA – TraJon Cotton has strived to become a bigger contributor for Montana, and he's now earned the first sign of safety three weeks in a row.
The second had 20 tackles and two broken assists, including one that led to an interception on Saturday, in his first full season of action. Its growth and increased playing time add more depth to the safe stance, especially the nickel stance.
Despite this being his fifth year in college, Cotton has only played two college games heading into this season. He wore a red shirt in 2017 at Oregon State, played twice in 2018, missed 2019 with injury, had fall 2020 canceled by COVID, and missed spring 2021 with injury.
Cotton sat down with 406mtsports.com to make up for his time in Montana.
Q: You've started several games in a row now, so where did things start for you to have these opportunities?
A: "I think I just play faster. I have always known the system. I'm happy to have been able to alternate the first six games. They were still playing me a lot, all three series. It just made me experience it. Now that I roughly know the position, I can just play fast and make games.
Q: Fast as just mentally, or physically as well or whatever?
A: "Both. I know the controls before that happens now. I know my gaps, I can shoot my gaps and make plays. Communication is even better now. I really feel at home in this position.
Q: You came in as a cornerback, so what's the difference between the safe position?
A: "They are very different in this system. The type of security controls the defense in this system, the securities and the backers. There are a lot of checks to be done with the motion and that sort of thing. Around the corner you just wait for the checkpoint, security tell you, so it's a little less work mentally. Safety is more work mentally, and I was ready for it. I moved to safety with two weeks remaining in fall camp, and it happened really fast for me. They knew I could do it because they know how I retain knowledge, so it was a good decision for me. I am happy.
Q: You played it safe at Oregon State as well, so what's it like to be back there?
A: "I'm just happy to be on the pitch and play with my teammates."
Q: How does the security here compare to what you played there, especially now at Nickel?
A: "I think just because it's great it's a little different. At Oregon State, I played free safety only; it was a completely different position. Here, I'm playing nickel, and you just cover like a corner and tackle like a backer. It's a little different, but I feel like it fits my playstyle.
Q: Why do you think it is?
A: "Because I feel like I'm a physical player, and I feel like I can cover really well too."
Q: And you didn't play the two spring games, did you?
A: "Last fall when I was home I got injured so I missed the whole spring ball. The corners were playing well, so I was happy with it. From that assessment, they saw that we may need some security assistance on the ground.
Q: What happened?
A: "It was just a little injury at home when I was training. I am fine now. I'm just happy to be healthy.
Q: How did you stay engaged when you weren't playing?
A: "I think just being in the meetings and coming to practice and not train, that just fuels your fire and makes you want to go back even more. I was just trying to work to come back and play with my brothers.
Q: When were you fully licensed?
A: "I was in rehabilitation in the spring. I was healthy enough to play, but we played smart. In the summer, I was in full swing.
Q: What kind of work did it take to get ready for football again?
A: "The main thing was to be in good shape. The form of football is different from just running and all that stuff so the fall camp was pretty tough the first week or so. But then the more reps you get, the fitter you are. It was probably the hardest thing to get back into shape.
Q: Finally, you're on special teams as well, so how did that aspect go?
A: "I'm on the cover of the kickoff. They are afraid. They don't want to return the ball. They are afraid.
[ad_2]