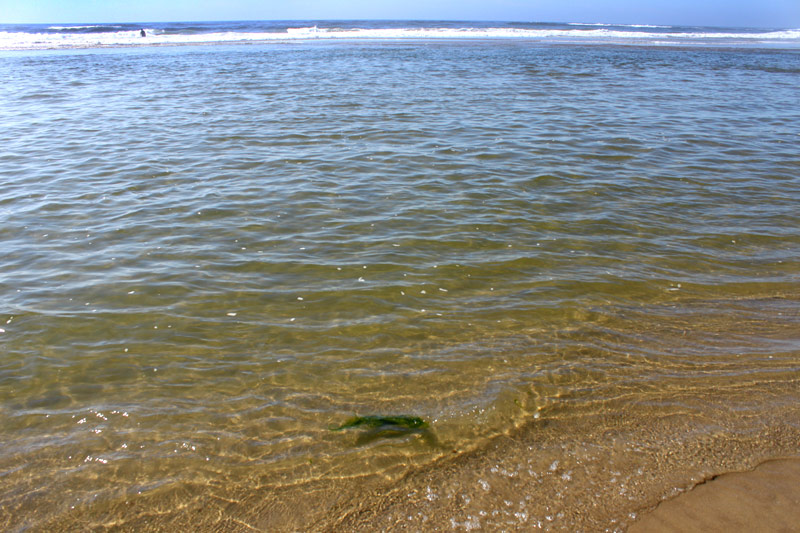 Hidden Dangers of the Oregon/Washington Coast Summer Tide You Really Should Know
Hidden Dangers of Summer at Tideline of Oregon Coast/Washington Coast – Video
Posted 7/11/22 6:59 PM PST
By the staff of the Oregon Coast Beach Connection
(Oregon Coast) – Right now at this time of year you are extremely comfortable crossing the tide line from the Oregon Coast or the Washington Coast, especially when you see how the waves are further out than usual at your favorite beach, in places like Moclips, Meyers Creek near Gold Beach or at Seaside. (Above: At Tillicum Beach near Waldport, this large pool in front of the tide line is impossible to measure exactly how deep it is, and could drop more than five feet. All Oregon Coast Beach Connection photos)
As the old movie poster warns: Just when you think it's safe to get back in the water. There is a hidden danger in conditions like these, where large puddles of water that seem harmless can actually injure you or cause you to drown. High summer sand levels on the Washington Coast or Oregon Coast produce large, dune-like sand masses, and the spaces between them are quite deep. It's not a problem, if you can see where you're going.
What if these spaces were filled with water?
This is exactly the scenario that occurs every year along the Oregon Coast or the Washington Coast – just off the tide line or even within the tide line. Sure, it's great to wade in there up to your navel, but make sure the sandscape below is pretty flat instead of dropping suddenly.
What happens is that people walk along these welcoming sandbars above large pools of water, and then when they enter one of these pools, they find that there is a lot deeper than they thought. Some of these sudden drops are five or ten feet deep.
There have been a few deaths over the decades because of it. Part of the problem is that there is a big jolt in their body because they fell further than expected. It hurts your whole torso to some extent. But if these holes/drop-offs are deep enough, you can actually end up underwater.
Fortunately, the worst-case scenario doesn't happen often. But comments from Oregon Coast Beach Connection readers show that an overwhelming number of people have bad experiences with it. The stories range from the shores of California to the beaches of Washington and Oregon.

Nye Beach in Newport: Notice the steep drop of the sand dune. This is what sometimes happens underwater, and you can't see that depth when covered in seawater.
It happened in Cannon Beach in 2007 with a local teenager who died in one of those pools.
On the North Oregon Coast they have been dubbed "crab holes", although no one seems to have found an actual technical name.
Keith Chandler of Seaside Aquarium explains:
"The sand under the ocean is not flat," Chandler said. "There are holes, deeper spaces between these sandbars, and they may be deeper than you think."
Chandler said that for children, a fall of three to four feet can lead to serious problems. In the extreme, these ten foot crab holes are just plain deadly.
"The sheer shock of landing so deep and hard can take your breath away," he said. "Then if you've gone down far enough, like even in water, you can't catch your breath."
If your head is barely above water, this type of shock can cause you to lose your footing and drown, or be swept away by an incoming wave. Also, the deeper the hole, the better the chances of you being swept away by the tides.
Even though this is a depth you can usually swim out of, with this sort of shock to your body, the resulting instinctive breathing means you're likely to swallow water.
What to look for? It's a bit complex.
"If you can't see the sand at your feet, it's too deep to get in," Chandler said.
He went so far as to suggest against wading in the ocean at all, as people really need a trained eye to know what to look for.
Chandler also suggests making sure you come back the same way you came in: avoid those pools.
Oregon Coast Hotels in this area – South Coast Hotels – Where to eat – Maps – Virtual tours

Above: large sand holes at Manzanita. Watch out for all those pools: you don't know how deep they are

Meyers Creek Beach near Gold Beach also receives these deep pools in the summer (pictured here in flatter conditions). Photo courtesy of Oregon Department of Forests
Learn more about hotels, accommodation on the Oregon Coast…..
Learn more about restaurants, Oregon Coast restaurants…..
LATEST Oregon Coast related articles
Back to the Oregon Coast
Advertise on Oregon Coast Beach Connection
All content, unless otherwise noted, is copyrighted by Oregon Coast Beach Connection. Unauthorized use or publication is not permitted.