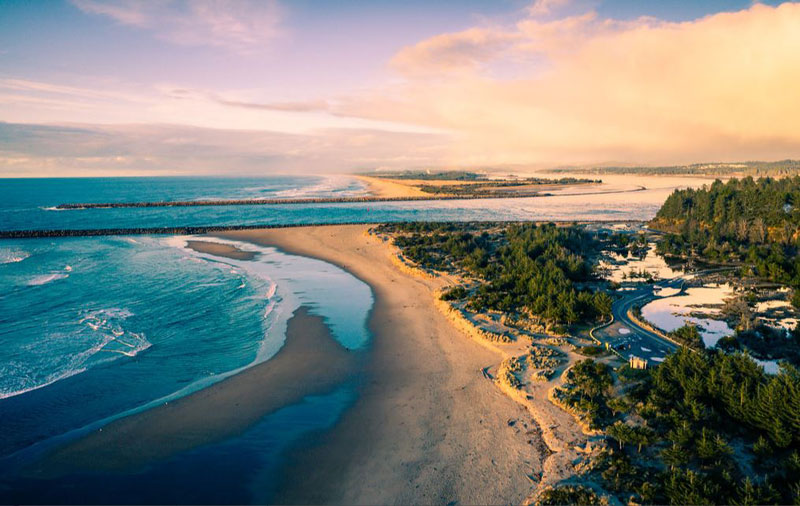 Invasive green crab conference examines its history on the southern Oregon coast in Coos Bay
Invasive green crab conference examines its history on the southern Oregon coast in Coos Bay
Published on 09/19/22 at 17:55
By the staff of the Oregon Coast Beach Connection
(Coos Bay, Oregon) — Oh, the lowly European green crab: that annoying invasive species along the Oregon coast that's become a mix of pariah and growing culinary delight. (Pictured above Manuela Durson)
On October 4, the Coos History Museum of the South Slough Coast of Oregon will host a presentation on the Junk Chunk in its first Tuesday, featuring Dr. Shon Schooler, lead scientist at the South Slough Preserve: Oregon Department of State Lands. He will speak on "The Story of the Green Crab Invasion of Coos Bay" at 6 p.m. that day.
The presentation will be a hybrid format: there are options to participate online via Zoom or in person at the CHM with doors open from 5:30 p.m. to 7:30 p.m. Registration for this presentation is free for CHM members, $7 for non-members. members attending in person and $5 for non-members attending online.
Shon looks at the invasive European green crab with a new professional perspective. He will share information about the history of how this species came to inhabit our local coastal waters and how it could be potentially harmful to native species of the Oregon coast and its environment. Learn about the status of the green crab invasion, what has been learned about this crustacean in recent history, and what may happen as the green crab population grows.
The European green crab has recently been the subject of much discussion on the Oregon coast and the Washington coast, with wildlife officials in both regions dramatically increasing the crab's catch limit, in hopes that the population can run out.
They are considered a threat to native shellfish, disrupting populations of crabs, clams, oysters, etc. larger recreational catches. In Oregon, ODFW felt it would be helpful to increase the daily bag limit from 10 to 35 this year. Officials hope this will encourage a larger harvest.
Growing numbers of recreational shellfish enthusiasts on the Oregon Coast are reporting growing green crab catches, and many have expressed support for their harvest.
On the east coast, restaurants are finding it an increasingly popular dish, and NOAA scientists are working to encourage a commercial fishing industry.
To register for this program, please visit the CHM website (cooshistory.org/events/first-tuesday-talks-oct-2022) or register at the Coos History Museum reception. You can also contact the museum by e-mail at [email protected] or by phone at 541-756-6320 x213.