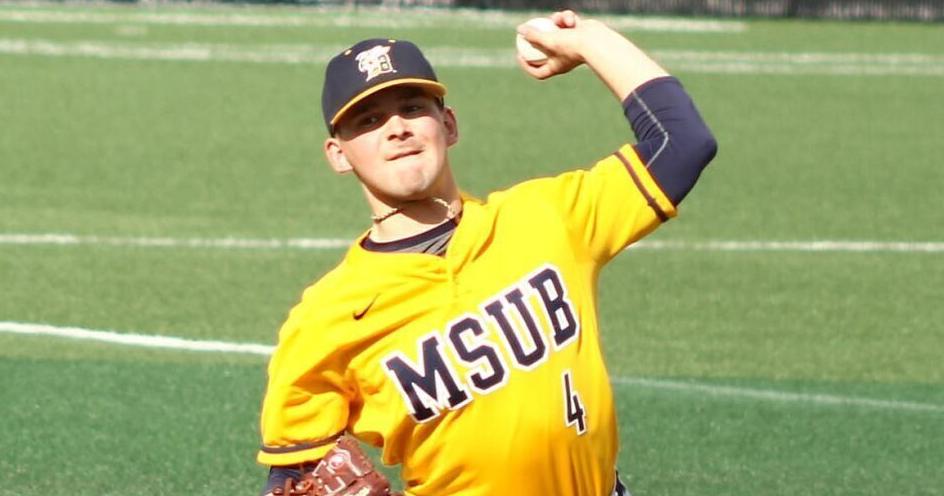 Montana State Billings' Dylan Barkley is GNAC Pitcher of the Week for the third time this spring | Montana State University Billings Yellow Jackets
MSUB Athletics and 406mtsports.com

BILLING — After the best outing of his career at Montana State University Billings, senior left-handed pitcher Dylan Barkley was named Great Northwest Athletic Conference pitcher of the week for the third time this season.
Barkley (1-1, 3.00 ERA) went no-hitter in the eighth inning Saturday against Colorado Christian University in Lakewood, Colo., before a one-out single broke his bid for the first no-no in the history of the program. Barkley went eight shutout innings, allowing just one hit and three base runners, while striking out eight, walking two and earning his second win of the season in MSUB's 6-0 victory.
"Dylan had another fantastic outing against CCU this weekend," MSUB baseball coach Derek Waddoups said in a school press release. "He really did a great job of presenting the game plan created by coach (Matt) Hape. He has been an excellent leader among our staff. We can't wait to see what he can do as we start playing in the conference.
En route to a career-high eight innings pitched, Barkley struck out the first 13 batters he faced before a one-out walk out in the fifth inning. He allowed only one more march and the only single in the dominant performance.
"It doesn't happen often when you dive deep into a game with 'the unsaid' still intact, and I couldn't have enjoyed it without the fantastic support system that I'm grateful for," Barkley said in a press release late Saturday from the MSUB on flirting with the non-hitter. "Friends, family, teammates and coaches all succeed together and enjoy wins like this. It's all about drive and power for this team. We came into this game hungry, and we devoured it.
Diego Hernandez threw the last frame for MSUB, allowing a hit.
Barkley has allowed no runs in three of his four appearances this season and enters this week second in the conference with 27 strikeouts in 24 innings pitched. He was also honored as GNAC Pitcher of the Week on February 7 and February 14.
Barkley is the first pitcher in the league to win three Pitcher of the Week awards in the same season since MSUB's Steen Fredrickson achieved the feat in the 2018 campaign, when he was named GNAC co-pitcher of the year. Overall, Barkley is the seventh player in GNAC history to earn three weekly accolades in a single season, with only Western Oregon's Grady Wood earning four – in his 2012 All-American season. .
Barkley is tied for the fifth-best pitcher of the week in his career, with Monday's honor being his fourth. The career record is seven, set by Western Oregon's Michael Ward, while Barkley tied former Yellowjackets Steve Scott, Cody Cooper and Fredrickson in tying the program record for GNAC Pitcher of the Week awards.
Barkley continued to climb MSUB's career pitching charts with his latest stellar outing, rising to No. 6 in school history with 150 career 2/3 innings pitched and remaining fourth all-time as he took his strikeout total to 154. Barkley's win — the 11th of his career — also propelled him to a tie for fourth in school history in that category.
The Yellowjackets (8-8) are expected to start play at GNAC this weekend with a pair of doubles at Western Oregon University. After playing both bills on Friday and Saturday, the Jackets will play their first home games on March 9. In their home debut, the Jackets host Mary at Dehler Park for a doubleheader starting at noon on March 9.