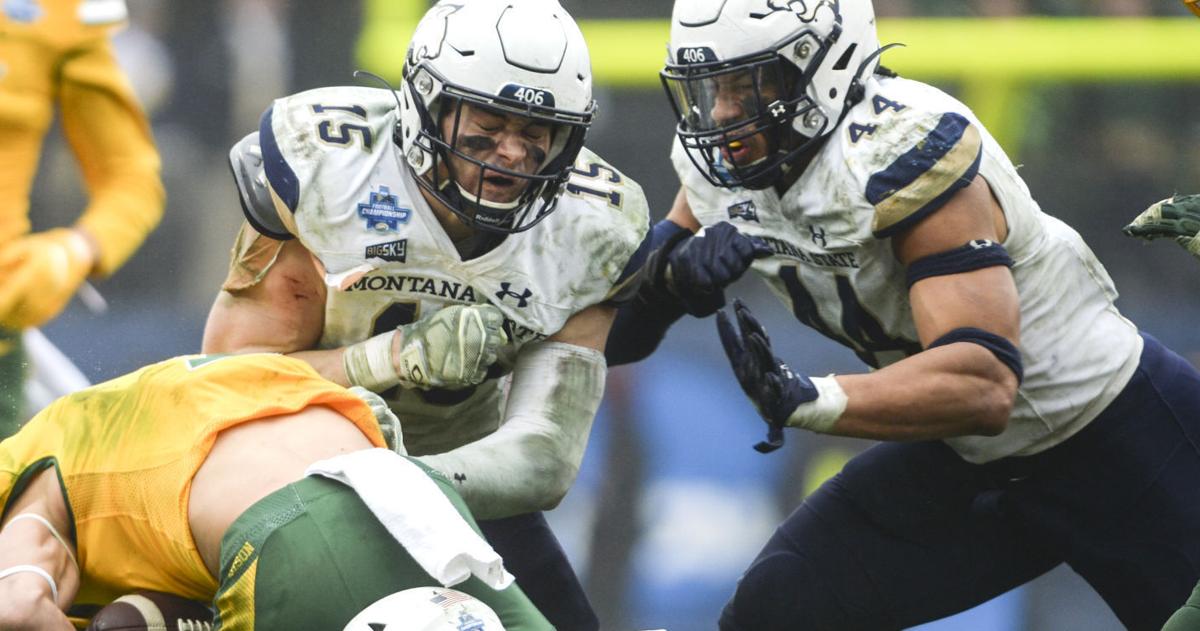 Montana State football players look to show off their pro potential in All-Star games | MSU Bobcats
BOZEMAN — Several seniors ended their football careers at Montana State earlier this month. A handful of them will soon have another chance to show off their skills.
On Saturday, three Bobcats will play in the NFLPA Collegiate Bowl: defensive end Daniel Hardy, offensive lineman Lewis Kidd and wide receiver Lance McCutcheon. A week later, linebacker Troy Andersen will play in the Senior Bowl.
Both All-Star games reflect the professional potential of MSU players. The showcases, which are full of exceptional seniors from bigger schools than MSU, will give these four Bobcats a better chance of continuing their football careers, perhaps at the NFL level.
Andersen will almost certainly be selected in the NFL Draft in April. The 6-foot-4, 240-pound Dillon native is considered a top 100 prospect by some draft pundits, and that's before he performed in pre-draft events like the Senior Bowl.
Andersen accepted an invitation to the East-West Shrine Bowl but opted to only play in the Senior Bowl, which is more prestigious than the Shrine Bowl and will be played two days after the Shrine. The Senior Bowl will take place in Mobile, Alabama, and will be televised on the NFL Network at 12:30 p.m. Mountain time on February 5.
The NFLPA Bowl will also air on the NFL Network. It's scheduled for 4:00 p.m. MT Saturday at the Rose Bowl in Pasadena, Calif.
Hardy, Kidd and McCutcheon are unlikely to be draft picks, although each could have a chance in the NFL. Many NFL rosters have featured NFLPA Bowl alumni, including Seattle Seahawks Shaquill Griffin and Bozeman native Will Dissly.
Hardy has the best NFL odds of the MSU trio, according to Dane Vandernat, director of player personnel for the NFLPA Bowl. Vandernat, who spent three years as the then-Oakland Raiders' professional personnel director, could see Hardy a late draft pick if he performs well on Saturday and elsewhere.
"He's got a lot of effort, he's got great athleticism and he's really showing his athleticism, his ability to play in space, here so far this week," Vandernat told 406mtsports.com on Tuesday. "He looks natural, he looks fluid, moving like he's comfortable doing all these things that he's going to be asked to do at the next level."
Hardy played outside linebacker before moving to D-end in 2021, and Vandernat thinks Hardy might be best suited at linebacker because of his "tweener size," Vandernat said. Hardy is listed at 6-3 and 240 pounds.
Wherever he lines up, Hardy will intrigue pro teams with his ability to rush the passer. The Oregon native finished last season with 16 sacks, fourth in MSU single-season history.
"It has a high ceiling. He still has a lot of room to improve," Vandernat said. "I think he's going to get stronger coming into an NFL team, and I think he's going to have a great opportunity to continue to build his toolbox and hopefully become a regular contributor to the game. an NFL team. I'm really optimistic about the rise of Daniel Hardy.
Hardy was a wrecking ball on MSU's kickoff cover team, so NFL teams might give him extra attention because of his potential value on special teams.
"I wouldn't be surprised if we came to April and celebrated him and Troy," Freddie Banks, then MSU defensive coordinator, said in November.
The second cat to be invited to the NFLPA Bowl was McCutcheon. The 6-foot-3, 202-pound All-Big Sky selection set MSU's single-season record for receiving yards without being as weird of an athlete as Andersen or Hardy. McCutcheon consistently showed his ability to run clean routes and win battles for well-covered passes.
CBS Sports/Football Gameplan analyst Emory Hunt tweeted earlier this week that McCutcheon made three "wow" plays in practice and it was hard for defensive backs to physically match up with him.
"He has a nice size. He has the length that wide receivers in the NFL want," Vandernat said. "You always hear the expression that football is a game of inches, and with that in mind, it's useful when you have guys who are a bit longer in terms of arm length, hand size, etc. because that in the NFL, just about every pass is contested.
McCutcheon, a Bozeman native, may not have the speed or the elite hands to get drafted, but plenty of receivers have succeeded at the pro level with the skills he possesses.
"I love watching him play big boy football on the pitch," Vandernat said. "He knows how to use his body. He has the athleticism to elevate, contort his body. He has excellent body control to relax when working on the sidelines.
"So there are a lot of aspects to his game, like his blocking, for example. He's a badass. He's a physical guy.
Kidd was an All-American left tackle at MSU, but Vandernat thinks he'll have better pro prospects at guard. The 6-foot-6, 320-pound Minnesotan has played mostly fullback his first three seasons, and people involved with the Cats say that's his best position.
Kidd arrived at the NFLPA Bowl because of his performance at the College Gridiron Showcase, which also included MSU D-end Amandre Williams. Kidd has the competitiveness and intelligence to play at the next level, Vandernat said.
"You've got NFL size, you've got NFL-like strength, you're athletic on the offensive line," Vandernat said. "He has those basic fundamentals. But then when you watch him play, it's his style of play, it's his aggression, his physicality that really stands out.
HOFer Jackie Slater at @Lewis_Kidd90 after a rep at the NFLPA Bowl 1vs.1 pass rush: "You can play guard. You can play guard. You're right." I love the wit and fearlessness of #66

—George Holley (@George_Cover0) January 25, 2022
Vandernat also said Kidd was "a great kid to talk to". MSU scouts and liaisons also praised Hardy and McCutcheon's character, Vandernat added.
These three players are certainly talented, but they also helped MSU reach the Football Championship Division title game with off-field attributes, which may well extend their football careers.
"It doesn't seem normal for us to have three guys from an FCS school here at an all-star game," Vandernat said. "But these three guys, they really deserved this opportunity."