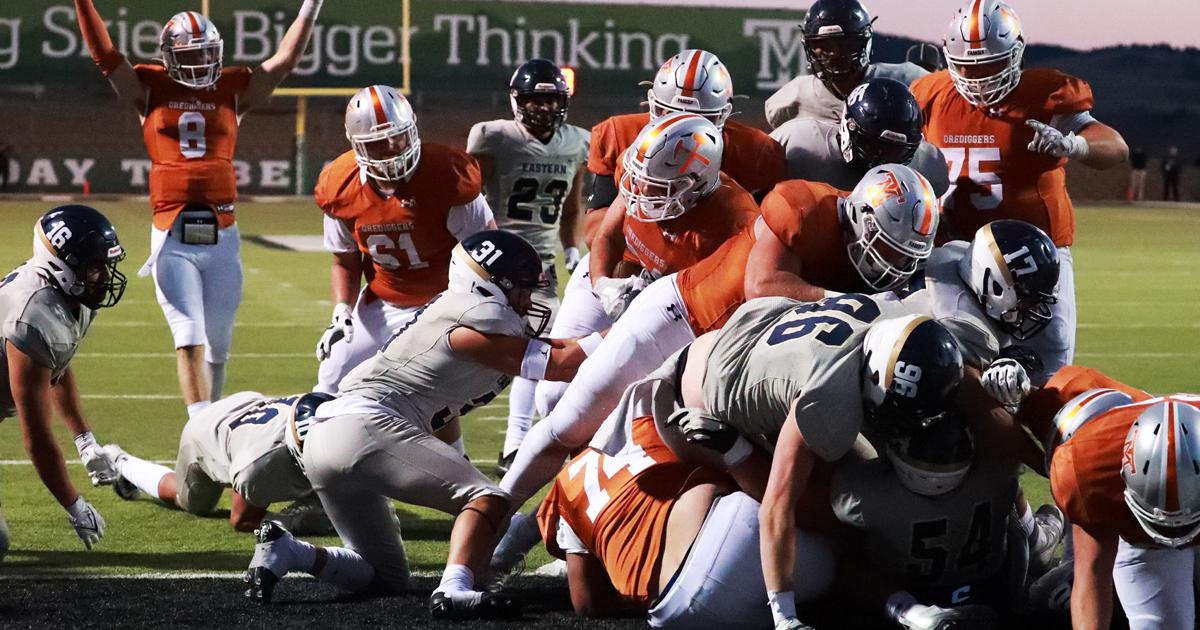 Montana Tech begins 2022 football season at Eastern Oregon | Western Montana
LA GRANDE, OREGON — A road trip to kick off a season can be an opportunity for a team to bond.
That's precisely what the Montana Tech Orediggers football team will get to kick off their 2022 campaign as they take on the Eastern Oregon University Mountaineers on Saturday night (7:00 p.m. MT) at Community Stadium. of La Grande, Oregon.
Montana Tech leads the series 18-15, with a 10-7 mark at Butte and an 8-8 mark at La Grande.
In last year's "Copper Game," the Mountaineers got a 42-yard insurance field goal from Zachary Cahill with 1:06 left to give Eastern Oregon a 26-17 lead. It was Cahill's fourth field goal of the day.
Mark Estes' 76-yard return at the ensuing kickoff and Jared Griffith's extra point brought the Orediggers within two points with 54 seconds left. However, the Mountaineers recovered the spot kick to secure the 26-24 victory.
Jordan Eggers led the way for Eastern Oregon with 148 yards on 21 carries and two scores.
The Orediggers kept Kai Quinn in check as he was 11 of 20 passing for 89 yards.
Spencer Schock had 12 tackles and a forced fumble, Bridger Johnson added ten tackles and Cole Wyatt had nine saves.
Jet Campbell passed 14 of 23 for 13 yards, a touchdown and threw two interceptions with 28 rushing yards.
Blake Counts went for 98 yards on 18 carries and scored once.
Trevor Hoffman led the Orediggers with 63 yards on three receptions. Kiley Caprara caught five passes for 46 yards and Logan Kennedy caught three passes for 20 yards and a touchdown.
Zak Donato's ten tackles included two for loss and an interception for the Mountaineers. Blaine Shaw had a 31-yard interception return.
After a solid summer camp, the Orediggers embarked on the nine-hour bus ride to Oregon on Thursday morning.
"We had a solid summer camp, and now we're into a game week," Montana Tech head coach Kyle Samson said. "It's time to execute, and this trip will give us the opportunity to put everything in place on Saturday."
As fall camp gives way to the football schedule, Samson thinks the Mountaineers will be a solid opponent Saturday night.
"It's a real big challenge for us," Samson said. "Eastern Oregon is a great team. Coach (Tim) Camp is a great coach and he's been around for a long time.
The Oredigger offense returns a host of starters, including Campbell, Counts and Hoffman.
"We have ten starters from last year on offense," Samson said. "They bring a lot of experience. It's a big problem. But, they have seen these situations before, so we try to improve daily. I'm very excited about where our attack is at.
The Mountaineers are coming off a 4-6 season that started with a three-game winning streak and a No. 11 national ranking. However, a tough second half of the schedule saw Eastern Oregon drop within five of his last six games. However, they finished on a high, beating state rival Southern Oregon University at La Grande.
The Mountaineers return All-Frontier linebackers Hayden Brandon and Solo Taylor on the defensive side of the ball. However, head coach Tim Camp hinted at the Frontier Conference preseason press conference that fans would see different faces on the Eastern Oregon defense.
"We have a great group of guys that you might not have heard of," Camp said. "We could be very, very dynamic in the immediate future."
Aric Williams is the new defensive coordinator and linebackers coach, following a successful stint as defensive backs coach at San Jose State. Williams coached a secondary that helped the team win its first Mountain West Conference championship and kept all opponents under 20 points for the first time in 30 years.
"Coach Williams came to us and the guys did a great job getting his systems back in the spring," Samson said. "This fall, the defense flies and plays fast. We have excellent leadership and our defensive backs had a lot of experience last year.
The Eastern Oregon offense suffered significant losses leading up to graduation, including starting quarterback Kai Quinn and All-Frontier tackle RJ Thorne.
Samson's expectation for Saturday is that the Orediggers must perform all facets to win.
"This road trip will be a tough challenge," Samson said. "It's going to be a long road trip, but that's why you work all offseason. You go out and get into that first game. Our goal is to go out there and get a win. This game will be a good one. atmosphere there. It's going to be a great battle. Eastern Oregon is a great team. Our guys will be ready and the staff has done a great job getting them ready.