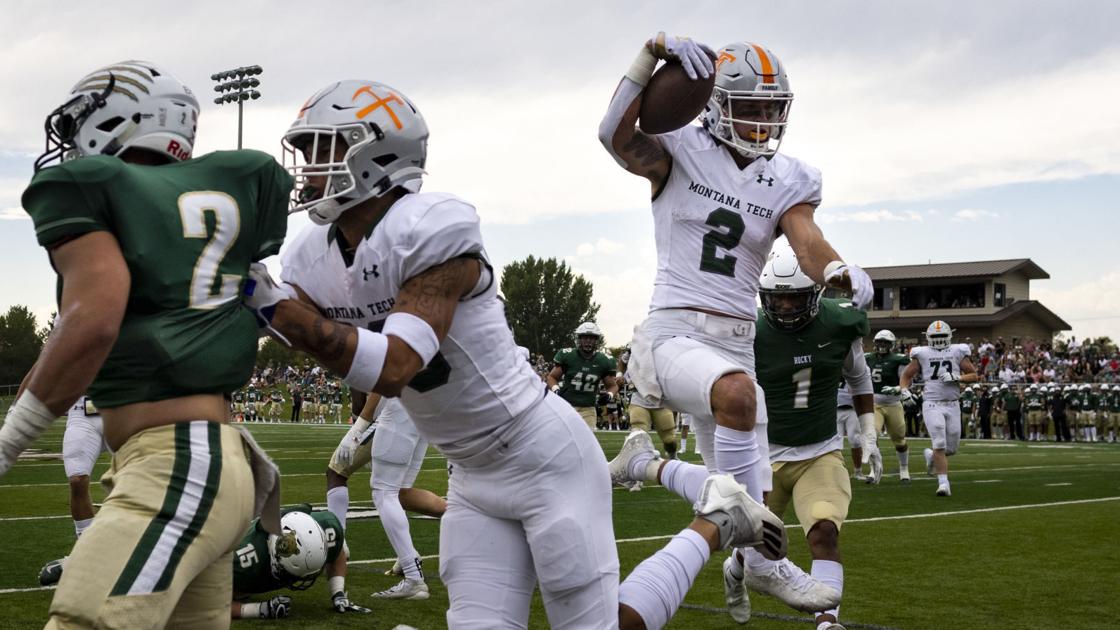 Montana Tech football rested and ready for Saturday's game against Rocky | Montana Technology
[ad_1]
Although the Orediggers have struggled this season, they earned a well-deserved victory last week over Southern Oregon. They will look to build on the winning streak in their next game against Rocky Mountain College, scheduled for 1 p.m. on Saturday.
One of the toughest losses of the season to date came Oct. 9 against College of Idaho, where the Orediggers lost 28-23 after letting a late lead slip away. But after a week off and the win over southern Oregon, Montana Tech coach Kyle Samson said his team may be in the best shape they've ever seen all year. .
"It was a big twist with a win after a tough loss before the week off," Samson said. "I'm really proud of our guys. I think that could have been our best performance of the year in terms of execution in all three phases of the game. We showed great leadership in a place where it is difficult to get a win.
Montana Tech topped Southern Oregon 398-189 overall last week and the passing game was particularly impressive. Quarterback Jet Campbell had 247 yards, four touchdowns and two interceptions in the win.
Redshirt junior Trevor Hoffman caught two of those touchdowns. Hoffman noticed an increase in team morale after the win and said it created more excitement for the upcoming game against Rocky Mountain College.
"After that long trip to southern Oregon, it was great to end it with a win," Hoffman said. "It definitely gave us a boost of confidence and it could have been the best attacking game we've had all season. I had a pretty good game, but when you look back you always think about how you could have done more.
"I think this week we have to stay on the same page every game," Hoffman continued. "We have to keep playing for each other, you know, understanding that your route can help other receivers and things like that. But we've been hungry all season and that certainly hasn't changed this week.
Samson was also optimistic about the health of his team, as many injured or tired players were given the chance to heal and rest. Asked about the performance of his players in training this week, he simply replied: "We are ready".
Montana Tech linebacker Spencer Schock got injured a few weeks ago and said the week off was very helpful. Schock played in the Southern Oregon game and will be close to 100% against Rocky Mountain College.
"I felt really good coming back from my injury. I was a little rusty at the start, but I found my rhythm," said Schock. "I think we've been hit hard by the injury virus, but we stay together as a team. Everyone has stayed as a unit, as a family. We're really going through that and we are looking to finish strong. "
Perhaps the brightest point in the victory over Southern Oregon and the biggest key to mid-season optimism was the Orediggers' ability to complete practices and play at their capacity the entire game. . They've struggled to do so in previous games, including the first clash against the Battlin 'Bears this season.
Montana Tech and Rocky Mountain College met on September 18 where the Orediggers won 31-29. The Orediggers allowed three unanswered touchdowns before stopping a two-point conversion that would have tied the game in the dying seconds.
"We're definitely trying to put together four good football quarterbacks. Some of the games that we lost, we played really well at times, but we couldn't finish, "Samson said. "But I think we did a good job last week and that will give us confidence this week. After this long journey last week, we are just delighted to be back home in Butte.
Despite the excitement, the Battlin 'Bears (6-1) present a tall order. Last week they beat Carroll College and Samson said they were the best team in the Frontier Conference.
The Battlin 'Bears offense hinges on elite quarterback and Billings senior graduate Nathan Dick. Last week, he had 346 yards and four touchdowns, three of which were thrown to Lucas Overton, who finished with 148 receiving yards.
"I mean it all starts with their quarterback, he's a really good player who's played really well all year," Samson said. "We've seen them once this year and beat them in Billings, but we know they'll be ready for us and are very well trained."
[ad_2]