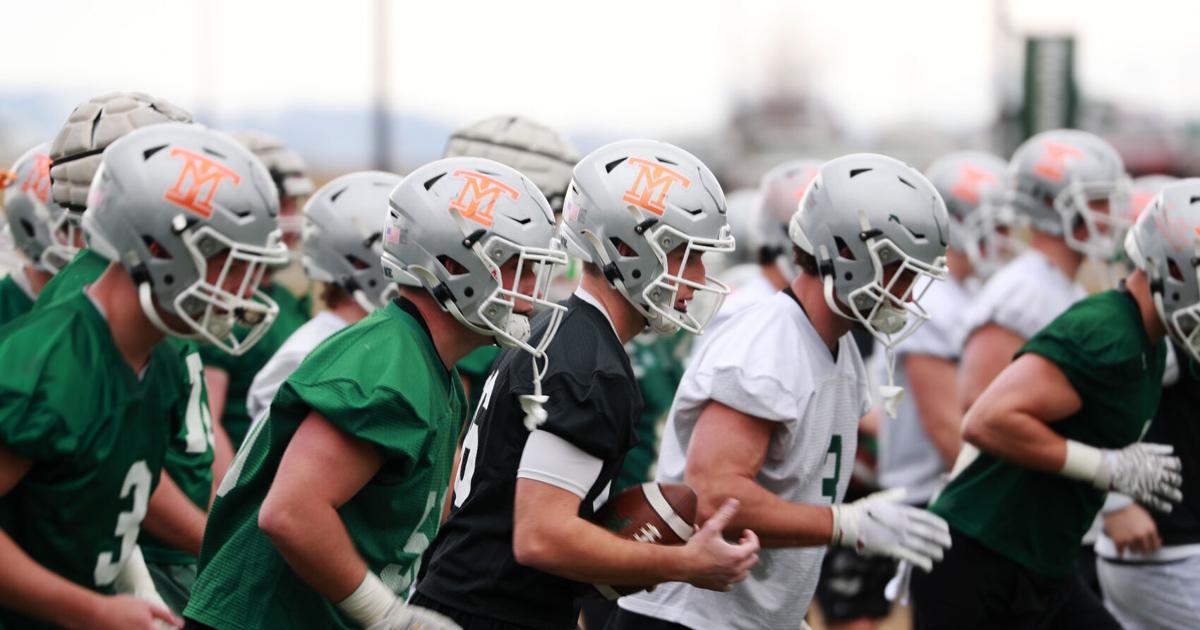 Montana Tech Orediggers football eager to 'break some pads' as spring training begins | Montana Tech
Mound — It's taken two years, but Montana Tech head football coach Kyle Samson finally has a conventional spring training season.
The Orediggers began their 15-practice program Friday afternoon on Bob Green Field at the Alumni Coliseum. It's their first such season during Samson's tenure that fits into the usual flow of a college football schedule.
"Last spring with all the COVID stuff, we kind of attacked the spring ball a little bit differently because we didn't have a fall (season)," Samson said as his team warmed up before the start. 'coaching. "(This spring) we got quite a good review from our guys who played a lot of football this fall.
"So we're excited to have that experience and to keep improving."
Alongside their 2020 fall season, the Orediggers also lost a large chunk of their 2020 spring season, robbing Samson of an opportunity to immediately establish his way of doing things on the pitch.
Now the third-year coach can build on his inaugural season's 5-5 record and fifth-place finish in the Frontier Conference.
"Those first two days are just a lot of teaching and practice work," Samson said. "And then when we put the pads on (I'm) excited to see what our guys can do to compete with each other."
Not only does Samson have his first season as a college head coach under his belt, he has 17 2021 starters returning for fall 2022.
Offensive lineman Jack Hiller said continuity and experience will help the team maximize its potential.
"The guys are a closer bunch than we've ever been," Hiller said. "We all know how to work together and act as one.
"Everything is going to be on another level."
For linebacker Ben Windauer, Friday marked the first time he was part of official team practice in two years. After losing a year to COVID, the redshirt junior tore his ACL in 2021.
"It's been a while for me," Windauer said. "And I'm really excited to come back here and have a good time with the teammates."
The first two spring practices will be low-impact, requiring only helmets for players. The pads will be donned on Tuesday and Thursday as the Orediggers prepare for their first full-contact practice on April 1.
"It's going to be a great feeling once we can finally get out there and smash some pads," Windauer said.
Hiller said he's looking forward to seeing the effect of winter conditioning play out on the field.
"It's really fun to see where everyone is at and perfect the craft," Hiller said. "It's a good time."
The winter was also about learning under new defensive coordinator and linebackers coach Aric Williams.
Samson said the Orediggers were delighted to have "some kind of new defence". Williams runs a 4-2-5 base, which uses four linemen, two linebackers and five defensive backs. Defense requires fast linebackers, solid defensive backs, or both. Samson said he thinks his list is well suited for regime change.
"I think we have a few different positions where they can kind of be tweens, between a defensive back and a linebacker, that can help us with both running and passing (coverage)," Samson said.
Williams coached defensive backs at San Jose State from February 2018 until his move to Montana Tech. The former Oregon State player knows the Frontier Conference well after stints at the College of Idaho (2015-17) and the University of Montana (2010-14). Williams signed with the Philadelphia Eagles as an undrafted free agent in 2005 and has played in both the Arena Football League and NFL Europe.
Windauer embraced the new defensive wrinkles and spent hours alongside his teammates learning as many concepts and terminology as possible before applying them on the field.
"When (Williams) came on a few months ago, we started in the playbook. We had three different setups that he put together. We started a little simple, we started slow," Windauer said. "But we've done enough work on it now until we've got most of it installed and we're going to be riding this spring."
Samson said the defense will match offenses that like to spread the field with multiple pass-catchers, as well as first-first offenses that use "21 people," which uses two running backs and a tight end.
"I'm really proud of the guys, the way they've worked this offseason," Samson said. "I think our staff have done a hell of a job, really excited to have our new defensive coordinator here on his first day."
After the Orediggers' spring game on April 22, the focus will be on academics for the rest of the semester. Finals week runs from May 2 to May 6.
Until then, players will take advantage of the opportunity to participate in the normal first spring season in many of their college careers.
"You have a long break from doing anything like that, so it's really fun to come back and play the game that we love," Hiller said. "We're all here to play football, so it's just a lot of fun."