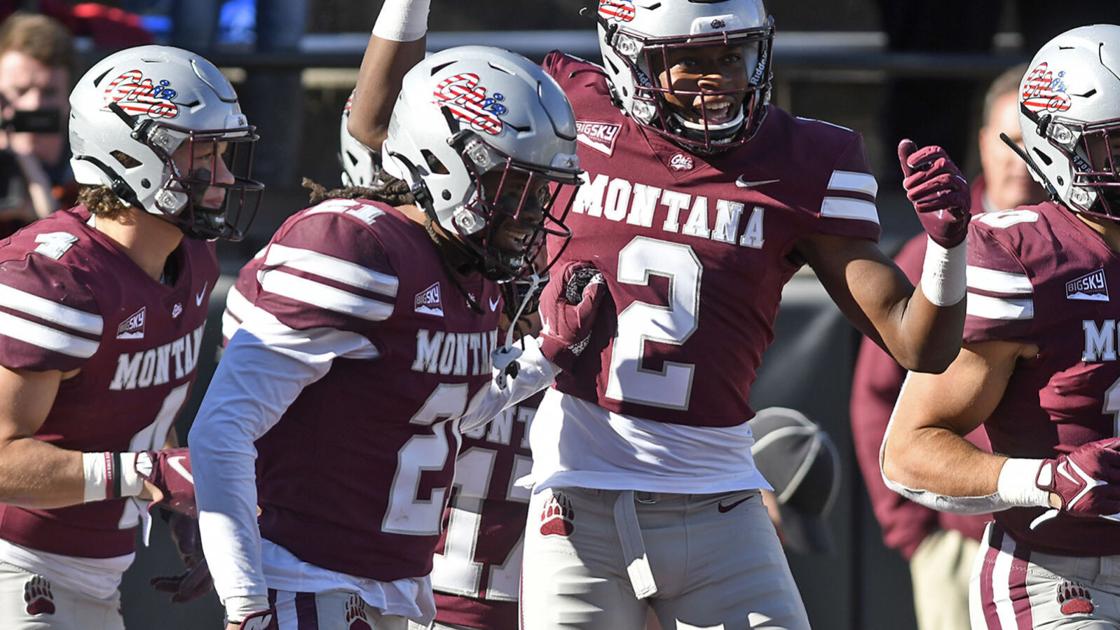 Notebook: Montana game north of Colorado will have a heavy dose of former Power Five players | Grizzly bears
[ad_1]
FRANK GOGOLA Missoulian

MISSOULA – Montana's game to northern Colorado will have a Power Five flavor on Saturday at Nottingham Field in Greeley, Colorado.
The Griz and Bears each have 10 former P5 players in their roster, the most of any Big Sky team. The P5 is the top tier of the FBS, containing the SEC, Big Ten, ACC, Big 12, Pac-12, and some independent teams.
While UM and UNC combine for 20 of those players, the other teams in the conference have a total of 44 former P5 players. That's an average of four each for those 11 league teams, none of which has more than seven.
Former UNC P5 players are safety Dustin Johnson (Colorado), running back Tru Wilson (Michigan), wide receiver Kassidy Woods (Washington State), wide receiver Dylan Thomas (TCU), linebacker Xander Gagnon (Duke), quarterback Dylan McCaffrey (Michigan), punt turner / defensive back Uryan Hudson (Colorado), fullback Zach Angelillo (Calif.), Defensive lineman Austin Williams (Colorado), defensive lineman Tava Finau (Colorado).
Seven are listed as entries on both depths, while Johnson and Finau are listed as backups. Williams is not on this week's depth chart.
McCaffrey was the big name in the transfer as the coach's son and former four-star prospect coming out of high school.
"He's a good player," said Griz coach Bobby Hauck. "He's a big kid. It is quite resistant. Throws it pretty well. Pulls and works quite well. He is obviously a child of a coach and he grew up around him. He has a good handle on things. "
Woods is the team leader in the three main reception categories. Thomas is second for yards and touchdowns.
"Their receivers really stand out," Hauck said. "They have Washington State's only kid and TCU's only kid leading them in catches and yards per catch. They are good players, for sure.
Former UM P5 players are cornerback Omar Hicks Onu (Oregon State), safety Gavin Robertson (Arizona), safety TraJon Cotton (Oregon State), cornerback Justin Ford (Louisville), kicker Kevin Macias (Arizona State), defensive end DeAri Todd (Michigan State), defensive end Joe Babros (North Carolina State), center AJ Forbes (Nebraska), left guard Hunter Mayginnes (Wash.) and defensive end Justin Belknap (Arizona).
Nine of them were regular beginners when they were healthy and are expected to start this week. Todd left the bench as a rotating defensive end this year while in good health.
In total, northern Colorado has 36 transfers, the most of the conference. Montana has 20, the eighth-highest number of the 13 teams.
Family and familiarity
Not only is Ed McCaffrey the head coach and his son Dylan McCaffrey is the quarterback, another son, Max McCaffrey, is the offensive coordinator and wide receivers coach.
This is Ed's first job as a college coach. He spent 2018 and 2019 as a head coach at Valor Christian High School in Highlands Ranch, Colorado. His defensive coordinator at Valor Christian, Scott Darnell, is his DC at UNC.
Ed McCaffrey played at Stanford and won three Super Bowls as an NFL player. He spent the 1995 season on the Denver Broncs with MU's cornerback coach Ronnie Bradford and was still with the squad in 2003 when Bradford was an assistant coach. He played with former UM safety Tim Hauck, brother of Griz coach Bobby Hauck, in 1995 and 1996 on the Broncos.
"We love Ed and know him," Hauck said. "Ronnie Bradford played with him. My brother played with him. Ed coach at Valor, everyone had been there. They were at our visit to UNLV, so we've known them all for a long time.
The hiring of Ed McCaffrey caused a stir for a downstairs housing program due to name recognition. He hasn't taken the league by storm, but at 3-6 the Bears have their most winning streak since 2016.
"It's good to win the press conference. It definitely gives you a little boost, "Hauck said of the glowing rental. "But then, you know, for all of us in training you have to go competitively, and so it ultimately comes down to that."
Get off my lawn
Northern Colorado gave up its grass field for sod, leaving Cal Poly as the only natural grass field remaining in the Big Sky.
Nottingham Field, which opened in 1995, saw its turf replaced by IRONTURF ahead of its home opener this season. The capacity is listed at 8,533.
UM is 14-2 all-time at UNC, 9-0 at home and 5-2 away. Hauck is 5-0 against the Bears as head coach of the Griz.
Frank Gogola covers Griz football and prepares sports for the Missoulian. Follow him on Twitter @FrankGogola or email him at [email protected]
[ad_2]