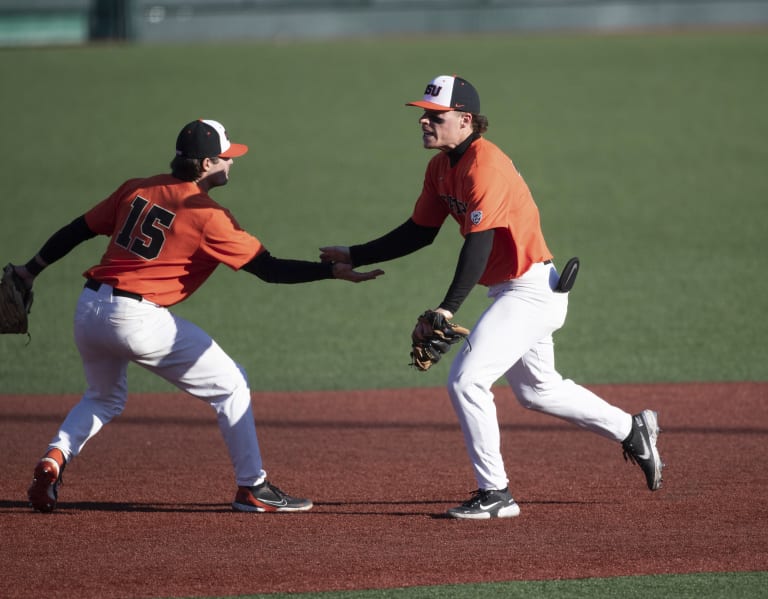 Oregon State baseball ready to face Washington State
No. 7 Oregon State vs. Washington State
Bailey-Brayton Field – Pullman, Washington.
Friday – 3:05 p.m.
HPL Cooper Hjerpe (3-0, 1.65) vs. LHP McKabe Cottrell (1-2, 4.61)
Saturday – 2:05 p.m.
HPR Jacob Kmatz (2-0, 4.38) v RHP Grant Taylor (2-0, 3.55)
Sunday – 1:05 p.m.
TBA vs. RHP Danny Suarez (0-0, 4.00)
– Oregon State and Washington State face off in Pullman for the first time since 2018. The 2020 series at Bailey-Brayton Field has been canceled due to Covid-19.
– OSU is 97-131-3 all-time at Pullman.
– The Beavers, however, have won three of the last four series at Pullman.
– OSU is 8-1-1 in its last 10 total games against the Cougars. The teams were tied in the 2018 series finale, 7-7.
– Cooper Hjerpe, Friday's likely starter, struck out eight in four innings against WSU last season. He scattered two hits and walked four.
– Hjerpe has a career ERA of 3.26 in Pac-12 play, compared to a mark of 4.69 in non-conference action.
– Justin Boyd is on a 14-game hitting streak and is 21-for-55 (.382) with five doubles, one triple, one home run and 15 RBIs in that span.
– Jacob Melton also hit safely in 12 straight games and is 21 for 50 (.420) with three doubles, two triples, four home runs and 23 RBIs in that span.
– Boyd, Melton, Wade Meckler and Travis Bazzana have reached base safely in all 10 games this season. No other Pac-12 team can claim that many players on a double-digit current streak.
— Nine different Beavers have at least one hitting streak of four or more games this season. Meckler and Garret Forrester join Boyd and Melton with more than four rounds of hits.
– OSU's pitching staff has six games of 10 or more strikeouts. The 2021 Beavers have played seven in their first 10 games.
– OSU relievers retired their first batters faced on 25 of 37 occasions (68%).
– The Beavers rank second in the Pac-12 with 13 stolen bases. Boyd ranks second individually with six.
– OSU entered the week with the nation's No. 4 fielding percentage at .991. Oregon State is also fourth with a .353 batting average.