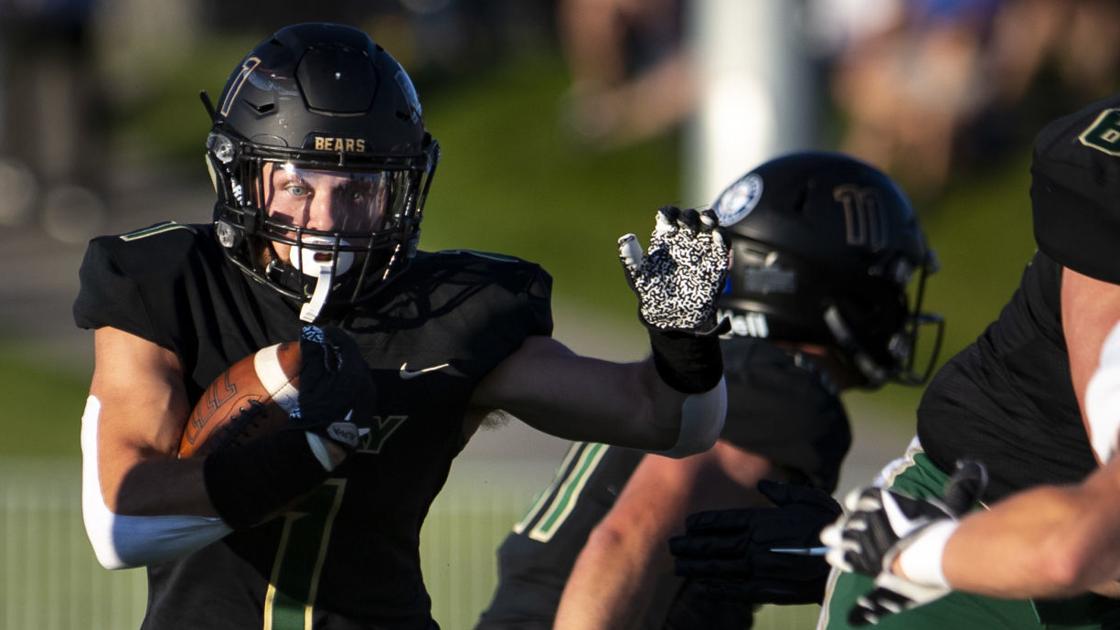 Rocky football takes a win-now stance in second leg against Montana Tech | Frontier Conference
INVOICING – Rocky Mountain College is 2-0 and so far fulfills a squad-wide commitment for the 2021 football season.
"Everyone really understands that it's our time to win now, and we want to go get it," second defensive lineman Dylan Beridon said this week. "We don't want to wait. We have to go get it now, and this is our time.
It's been seven years since the Battlin 'Bears started a 3-0 season, and they'll have the chance to start again on Saturday when they host Frontier Conference rival Montana Tech for a 1 p.m. kickoff at the Herb. Klindt Field.
With wins over Southern Oregon and the College of Idaho, Rocky is ranked No. 24 this week in the first NAIA Top 25 Coaching Poll. Montana Tech, coached by Kyle Samson, is 0-2 after losses to Eastern Oregon and Carroll. But the disparity in records does not comfort the Bears.
"They are a very good football team," Beridon said of the Butte Orediggers. "We did not examine their file or even the dashboard. They will come in hungry. We know that we cannot take them lightly or that they can crush us.
"We really have to go out and try to take control and try to shut them down. "
Both teams are coming off a week off. Rocky gave his young guys extended reps last week while also giving relief to his veterans and more prominent players.
The Bears prepare for a challenge against Tech. With players like quarterback Jet Campbell, running back Blake Counts and forward Trevor Hoffman, the Orediggers have no shortage of playing ability on offense. Counts was beaten two weeks ago against Carroll, but is a tough job when he's in good health.
Rocky third-year coach Chris Stutzriem said Counts, a 220-pound Kalispell Flathead graduate, "runs so hard. He's what Tech wants in a running back. He's a physical kid and he always falls forward to get the extra yards. And he's athletic enough to be able to shake things up on the outside.
"Jet is a hell of a player," Stutzriem said of Campbell. "He's a competitor. He can launch it and execute it. He's a bigger kid, a strong kid. He's athletic and he's matured every time we've seen him in the movies. This will be the key for us for our D line to get past the quarterback. "
Rocky's offense, meanwhile, has been successful in the air so far as quarterback Nate Dick threw for 484 yards and five touchdowns in two games.
But the Bears will be tested against a Tech defense that prides itself on being physical.
"They like to stand up in your face. That's what they're known for, "said Rocky wide receiver Lucas Overton. "They've got big guys up front on the D line, big guys at linebacker and quick turns and safeties that will punch you in the mouth.
"We just have to be ready for the fight."
Spotlight on: DE Ethan Hurst
Beridon calls Ethan Hurst the "young puppy" of Rocky's defensive line body, but the freshman from Santa Margarita, Calif., Is playing beyond his years.
In two games, Hurst, a defensive end listed at 6 feet, 230 pounds, ranks second in the country with 4.5 quarterback sacks and third with seven tackles for a loss. Hurst saw the weather during the team's four-game spring schedule and was able to retain his freshman tag due to COVID-19 eligibility relief, and now he's really taking over.
"He's a ridiculous athlete," Beridon said. "He runs at 100 mph crawling on the ground. He brings that energy. He's a film genius (study) and he's very mature for his age. He's going to be a problem for the teams for the next four years. It will wreak havoc.
"Ethan has a lot of one-on-one clashes," Stutzriem said. "His first step is so good. He's explosive off the ball and when he gets that one-on-one game I really love what he's doing. He's smart, he's so athletic, and he has an engine in every game. "
Rocky's defense has been successful in large part thanks to the exploits of his line – especially the inside play of Beridon and Wes Moeai and Alex Bush on the outside. Bush, by the way, last played in Division I TCU and has become a proven frontier defender.
But Hurst's performance perhaps turned the most heads.
"We knew it was there. We saw him every day during the fall camp, "said Stutzriem. "I know our tackles are happy he's on our team and not seeing him on the other side.
"He did a much better job of staying balanced. Last year we saw the speed, but it was a bit out of control. Now he's more under control and more balanced coming off the ball, which has really helped him.