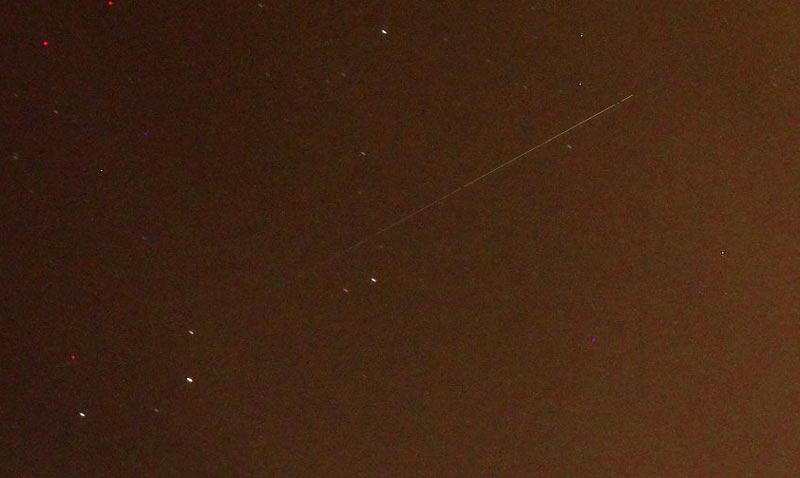 Starlink satellites visible over Washington, Oregon, coasts
Strange lights above: Starlink satellites visible over Washington, Oregon, coasts
Posted 08/20/22 05:08 PST
By the staff of the Oregon Coast Beach Connection
(Portland, Oregon) – Nothing like strange lights in the sky to "brighten up" your evening. (Above: A Starlink satellite over Portland. Photo Oregon Coast Beach Connection)
At least one video has surfaced of a string of strange lights in the sky over the Pacific Northwest, showing them heading in a straight line and at a steady pace. This, it appears, was the last launch of Starlink satellites circling over cities large and small on Friday, and likely even putting on a show along the Oregon Coast or the Washington Coast.
They've been spotted before, and Oregon Coast Beach Connection has taken the individual trails in the past. If you missed it, there's a better chance of seeing them roaming around over the next three nights. They will have split up so the northwest can't see the satellites moving together as a group, which is a bit mind-boggling.
SpaceX launched its 60th batch of Starlink satellites into space on Friday, a series of high-speed Wi-Fi satellites that will primarily serve areas of the world that lack access to telecommunications companies.
The launch also marks another special milestone for SpaceX, as the Falcon 9 rocket then made another successful drone landing in the Atlantic.
Times to see the Starlink spacecraft over the next three nights are a bit tricky, as sources like findstarlink.com don't show details for areas on the Oregon Coast or Washington Coast, such than Westport or Newport. They do, however, show major inland towns nearby. Starlink sites unfortunately show no possible views for the Southern Oregon Coast or Southern Oregon over the next three nights – which are supposed to be the evenings when they are easiest to see.
The times listed for Portland are (with Seattle a few minutes away):
Saturday (tonight): 9:44 p.m. Starlink-55 (G4-27) (new) for 4 minutes. From northwest to northwest.
August 21: 9:42 p.m. for 4 min. From northwest to west.
August 22: 9:37 p.m. for 3 min. West to southwest.
Timings are approximate and therefore a good benchmark for spotting beaches on the Oregon Coast or the Washington Coast, should you find yourself with clear skies. The other caveat is that the viewing depends on the satellites picking up the sun's glare, which may or may not happen.
The big plus is that they should be pretty bright, with an apparent brightness of around 2.3-3.2 for the first three days. It's as bright as some of the brightest stars in the sky, but not as bright as any of the planets.
Despite rumors, Starlink satellites do not use 5G technology, unlike the satellites launched by China.
According to Portland-based OMSI astronomy expert Jim Todd, SpaceX's fleet of Starlink satellites also sadly heralds the end of something awesome in the sky: the Iridium flare. This photo above is an Iridium flare above Manzanita, which occurs when these older satellites pick up a glare from the sun and are quite bright. They are often confused with meteors.
"Beloved sightings of Iridium flares have all but disappeared from Earth's night sky as the original set of 66 Iridium communications satellites were decommissioned in 2019 and allowed to re-enter Earth's atmosphere," Todd said.