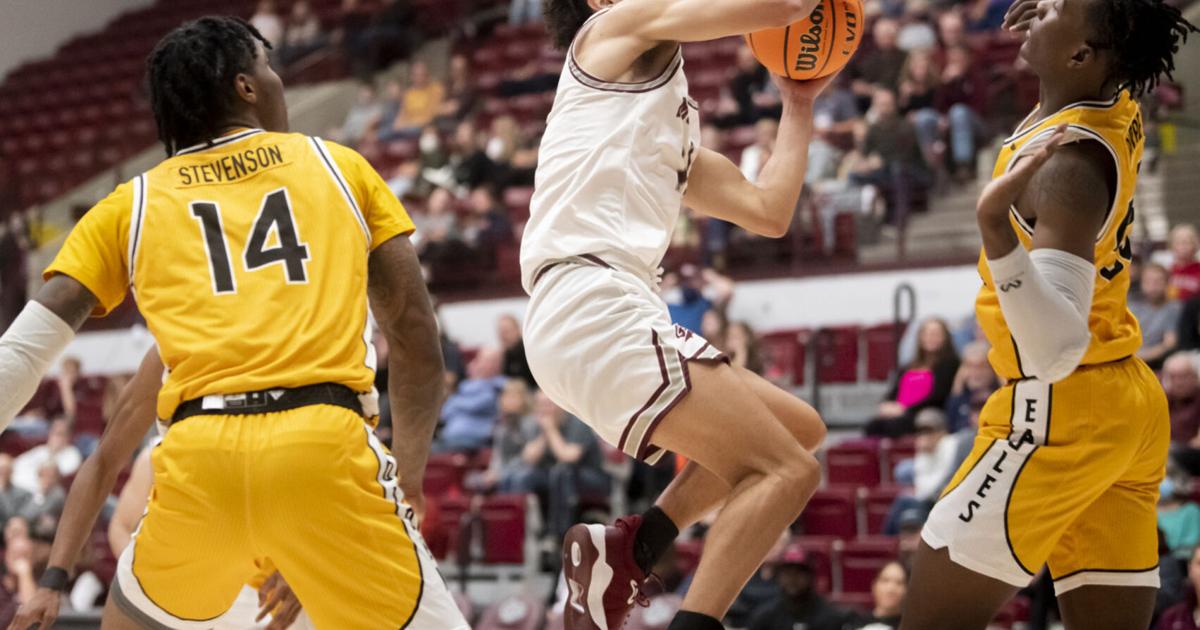 Super sixth man: Montana backup playmaker Cameron Parker thrives in off-bench role | UM Grizzly
[ad_1]
MISSOULA – It doesn't matter whether Cameron Parker leaves the bench or starts for the Montana men's basketball team, as he has thrived in either of those roles this season.
Senior playmaker from Beaverton, Oregon is typically the players' first head coach, Travis DeCuire, who of course holds Montana's career-high assists record at 425, sends about the first media timeout. about five minutes after each game.
Parker arrives, settles the offense, and has a knack for offering easy buckets to his teammates. He likes it, though. Being the first off the bench early gives the savvy playmaker time to watch and study how opponents are protecting offense as they check the game.
"I like coming off the bench because I can see how the defenses play against our team in the first media timeout," Parker told the Missoulian and 406mtsports.com after an unbalanced victory over SAGU American Indian College on the 13th. December. When I come in I know how they're going to keep the screens on the ball and things like that.
"I honestly accept any role Coach Trav gives me."
Parker leads the Big Sky in both assists at 86, 15 more than second starting Montana state goalie Xavier Bishop, 61, and assists per game at 6.6. Among all Divisions I, Parker ranks seventh for assists per game and second for total assists. It also leads the Big Sky in attendance to revenue ratio at 3.6, which is good for the 11th place finish in the NCAA.
Its production is one of the main reasons Montana, as a team, ranks eighth nationally in assists ratio (1.7), 10th in turnovers per game (9.7), 12th for the total of the assists (212) and 19th for the margin on the turnover (+ 4.9).
He is the quintessential playmaker and is an extension of DeCuire with his consistent but often assertive play. Of his 80 career college basketball games, he's never played a game without handing out at least one assist – even though the official Sacramento State victory stat book failed to note a help he did to his teammate Scott Blakney.
He did so despite having only made three starts this season when his fellow point guard and regular starter, second student Brandon Whitney, was forced to miss some games with a foot injury.
Parker, in his second season with Montana after transferring from Sacré-Coeur, doesn't care, even though he has a record-laden CV himself. Parker, whose cousin is Griz's former soccer player Samori Toure, is the NCAA Division I men's basketball record holder for single-game assists when he lost 24 cents to a non-DI team in second year at Sacred Heart.
But he admitted coming off the bench was an adjustment. He was a mainstay of the Sacred Heart starting five with 37 of the 47 games he played in his first and second seasons.
This season alone, he's put up some screaming stats, including a triple-double against Yellowstone Christian and a 20-assist game against SAGU American Indian College to set new one-game records in Montana and Big Sky.
Of course, those two games were against inferior competition, but he showed a lot against teams in Division I.
Parker came off the bench and scored 20 points on a 9v9 shot in a home win over the Air Force. He played 33 minutes in the win as he recorded his third straight double-digit game at the time.
The victory over the Air Force was Parker's most assertive in terms of scores. The 20 points represent his best goal mark as Grizzly making it on 12 field goal attempts – good for the second most during his time at Missoula – and nine free throws.
"You just have to let them play," DeCuire said of Parker's decision-making after the Air Force win. "When he's open he should shoot it. I don't like him refusing open shots, but he makes plays and he makes the right play."

[ad_2]