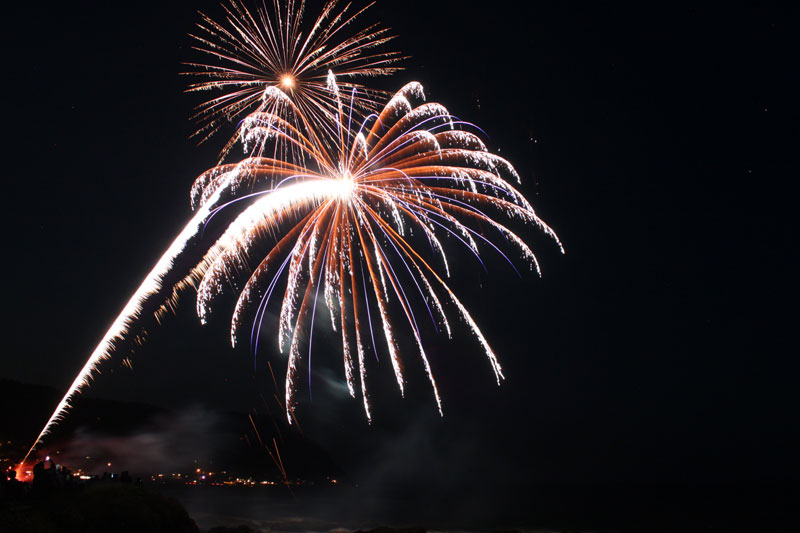 Wacky Tales, Impressions, and Confessions of the 4th on the Oregon Coast
Wacky Tales, Impressions, and Confessions of the 4th on the Oregon Coast
Posted 7/4/22 5:05 AM PST
Photos and article by Andre' GW Hagestedt
(Oregon Coast) – The 4th of July on the Oregon Coast is an interesting mix. There's a wild and engaging energy to it, at least there always has been for me. For a long time I found all the crowds both annoying and a kick in the pants, especially after the fireworks were over and we hit the bars. This is where tons of people made it interesting. And during the fireworks on the beaches, being part of those crowds was a bit like a rock concert. Still, there was this claustrophobic overcrowding and horrible traffic to deal with, and frankly, I finally ditched fourth on the beach. (Above: Yachats. All photos Andre' GW Hagestedt)
However, there are some goofy stories to tell, including what those shows were like.
First of all, I have to admit and tell the truth: I was one of those fireworks freaks that people hate at this time of year. And Oregon State Parks would have looked down on me. I loved the mortars and the crazy Washington stuff. It was, of course, a big part of the adventure. However, watching some of my favorite dogs freaking out over fireworks has cured me of this craving for what is happening soaring.

Waldport
The crazy times when we had mortars angled over Siletz Bay to fire at a low arc: well, it's still pretty hilarious to remember those ill-advised experiments in bad rockets. To be in the middle of hundreds of other people doing the same thing was a riot and part of that energy. For the past decade, every year I had to write something warning visitors of the pitfalls of doing so on the beach. I can say that State Parks warnings are true: bad things can happen. I can vouch for that personally, although I won't go into details (it wasn't too bad though).

Sea side
For a long time, you could do the Depoe Bay fireworks on third, Lincoln City or others on fourth, and Pacific City on fifth. Depoe Bay eventually shut down their show due to bird conservation concerns, which is commendable. Still, it's one of my fondest memories: hiding in North Point, away from the crowds, and watching the small but entertaining kabooms to the south. One year we grabbed glow sticks and 3D glasses. It was a trip.
Pacific City fireworks, I only saw them once, but it was remarkable. The giant bursts of light and the explosive flashes that propelled them created stark, eerie and gigantic shadows and colors on Cape Kiwanda. It was like something out of science fiction.

Rockaway Beach
The Manzanita show was always a hoot, but half of that was the drinking before and after. A wacky bar named Gale's at the time was our favorite haunt, a glorious dip if ever there was one. In the early 2000s, bars on the Oregon Coast were at the forefront of being truly laid back to bring your dogs. It was like a petting zoo but with alcohol. Fun-o-rama.
Rockaway Beach's fireworks have always been respectable for such a small town. The great aspect here was that you could be quite far north or south on the beach and you could still see everything very well.

Rockaway Beach
Plus, there was less traffic and less of that segment of visitors who were annoying and allowed. Most visitors are lovely, but there's almost always the archetypal "ugly American tourist."
Rockaway Beach bars would simply explode with activity. A standout moment is the huge conga line of booty-shakers in sauce that formed inside a tiny bar. Impressive.
Seaside's display is huge and always seemed to me not far behind Vancouver's monster shows. The ball here was often frighteningly crowded, but you had to walk through that gauntlet no matter where you chose. There were so many illegal fireworks that it was sometimes hard to tell when the real ones had started. It was impressive but not cool either.
I know of at least one business on the Prom where someone had to hang out on the roof to make sure private explosives didn't catch fire in the building.
Still, shooting the show from the Prom made for some interesting visuals with its lamps.
The small town of Waldport always pulled theirs on the third, and a year I finally succeeded. Hidden just off the bridge I found an exceptional vantage point to photograph which is a pretty decent sight. The colors reflected on the bay made for truly vibrant effects.
To the south at Yachats this is also considerable in size. I originally set up my gear a block or two from the roadside launch point. Turns out it was too close: those gusts in the air were too high from here.
Backing up a few blocks, the view got better. Like this photo of the waters of the coastal town in central Oregon taking on funky shades of green, red, orange and more. Take a good look: the sea looks like saltwater taffy.
The traffic back to my room in Newport was a nightmare, so I pulled over on the side of the road and took some bizarre experimental night shots on the beach. Nice serendipity there. And I think I actually got home earlier waiting for the traffic to die down rather than being there.
Just a tip for your next fourth experience on the coast.
Oregon Coast Hotels in this area – South Coast Hotels – Where to eat – Maps – Virtual tours
Learn more about hotels, accommodation on the Oregon Coast…..
Learn more about restaurants, Oregon Coast restaurants…..
LATEST Oregon Coast related articles
Back to the Oregon Coast
Advertise on Oregon Coast Beach Connection
All content, unless otherwise noted, is copyrighted by Oregon Coast Beach Connection. Unauthorized use or publication is not permitted.