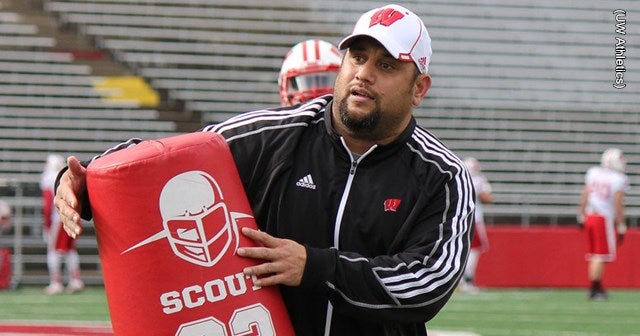 Washington debuffs Vanderbilt defensive tackle coach Inoke Breckterfield
Washington Football Coach Kalen DeBoer announced the hiring of Vanderbilt's defensive tackles coach Inoke Breckterfield to Huskies staff. DeBoer also named Junior Adams, Scott huff and Nick sheridan as assistant coaches.
Breckterfield, an Oregon State alumnus, joins the Washington staff after a year with Clark lea at Vanderbilt. This followed six seasons in Wisconsin.
"I am delighted that Inoke and her family are joining our program," said DeBoer. "He has consistently recruited and developed defensive linemen to a high level during his coaching career. I have no doubts that Inoke will continue to make a difference as we build our defense.
Breckterfield is known for his abilities as a development coach, so Washington could focus on high-potential defensive-line prospects when recruiting. Breckterfield told reporters on Wednesday that he and the Vanderbilt staff were specifically looking to add as much length and athleticism as possible to his group of positions – all Commodores signatories on the defensive line are listed at 6ft 6in or more.
"It was an important point," said Breckterfield. "I think my biggest thing in this recruiting class was finding the length. I wanted athletic guys 6ft 5in plus, and as you can see with the guys we kinda put in. forward – du (edge ​​players), D linemen – they're all long and athletic. That was a point we insisted on moving forward in this class. "
A native of Kaneohe, Hawai'i, Breckterfield played five seasons in the Canadian Football League before moving into the coaching world. After three seasons at Oregon State, he spent a season each as a defensive line coach at Weber State, Montana and UCLA before coaching in Pittsburgh from 2012 to 2014.
At Pitt, Breckterfield coached a possible All-Pro Aaron Donald, a unanimous All-American in 2013 and a first-round pick in the NFL Draft in 2014.
Get the fastest scores, stats, news, LIVE videos and more. CLICK HERE to download the CBS Sports mobile app and get the latest information on your team today.
Breckterfield took over as Wisconsin's defensive line coach ahead of the 2015 season. In his six seasons there, Wisconsin was 56-19 years old and played in three New Years Bowl games. In 2019, the Badgers set a program record with 51 sacks, and in 2020, the Wisconsin defense led the Big Ten in point defense and third down defense. In Breckterfield's six seasons at Madison, the Badgers have allowed just 16.6 points and 107.7 rushing yards per game.
Robbie Weinstien contributed to this report.