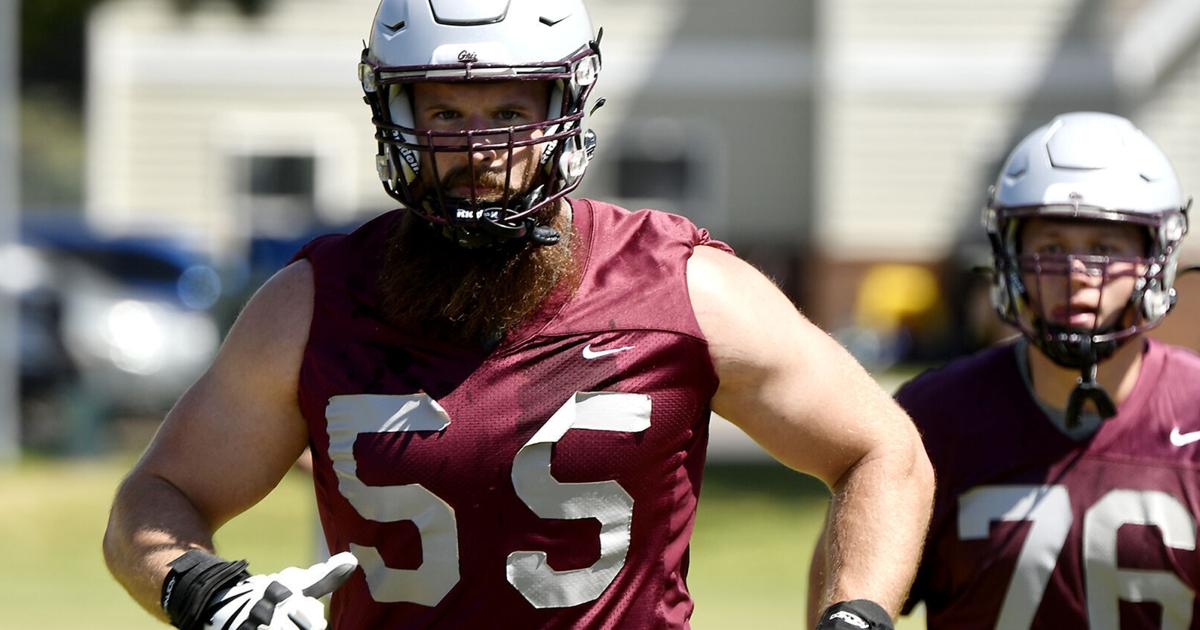 Young offensive line looks to answer the bell as Montana replaces 3 veterans | Grizzlies UM
MISSOULA — Montana's offensive players on the north sideline at Dornblaser Field erupted with an excited "oh" late in Friday's practice.
They let out a louder, more prolonged 'oh' moments later after another impressive play as the first-team offense battled the first-team defence. The next time, the players spread even further down the field with enthusiasm.
It had been a struggle early in camp for a somewhat young offense against a unique 3-3-5 defense full of All-American and All-Big Sky players, which can make it difficult to assess the O line and attack as a whole. Yet on the fifth day of pre-season camp, something seemed to click a little as the offense looked arguably the best it had been during live action.
The Grizzlies' biggest questions lie on offense as they try to live up to and surpass their No. 3 national preseason ranking. That's especially true on the largely youthful line, which needs proper technique and discipline to create flow paths and maintain pass protection to create an effective and efficient offense.
"I think our potential is the national championship. That's our main focus," second-year right tackle Brandon Casey said. "As you can see today we were tackling that, and it's only going to get better from here. We're in the first week and we have to keep building and we can't have any bad days. I think we've done a great job so far.
The questions around Montana's O line are related to a lack of experience. UM must replace three starters who have combined for 89 starts. One of them, Dylan Cook, is in the NFL with the Tampa Bay Buccaneers, while another, Conlan Beaver, was a second-team all-conference pick.
The Griz have three returning O linemen who have combined for 29 starts. Two of those players, juniors Hunter Mayginnes and AJ Forbes, account for 27 of those starts.
Forbes is the oldest statesman in terms of having the most starts (14) of any O lineman on the roster. He anchors the line as a 6-foot-4, 302-pound center who is in his third year at UM after being transferred from Nebraska.
For him, part of the success of the O line is attitude, especially the dominating offensive line attitude, or DOLA, that offensive line coach Chad Germer has worked to instill.
"I think the O line can be really good," Forbes said. "Some people are going to say some of these guys are going to be a bit inexperienced, but I think we have the physical talent and the mental capacity to be able to do some good things."
He added, "As long as we keep building that continuity with each other and building that chemistry with each other, I think that's the best thing about a good O-line."
Besides being a veteran last year, the Griz O line had more time to build chemistry ahead of the 2021 season due to the cancellation of the 2020 campaign. Still, they allowed 33 sacks, the third the more in the Big Sky, and ranked eighth in total offense. It didn't help that they started a substitute quarterback four games and found themselves without All-American running back Marcus Knight.
Knight is back from injury this year as he aims to play for the first time since December 2019. He will be behind five linemen he has never played with, including Mayginnes, who was traded from the state Washington before preseason camp last August.
The 6-foot-5, 330-pound left guard worked his way into a starting role by Game 1, started all 13 games, and earned All-Big Sky third-team honors. He feels better about his pass protection heading into this season and continues to work on proper header placement, proper use of hands and proper foot movement.
"I think it can be exceptional," he said of the O line. "I think we have all the talent in the world. I just have to keep improving during fall camp and keep improving throughout the season and hopefully that will lead us into January.
He clarified: "Effort and attitude, those two things probably help us the most. No matter the score, we know we can't put our heads down and we can hold our heads high with pride and keep improving.
Mayginnes faced a hoarse voice after practice on Thursday, in part due to calls on the line. He's working with new left tackle Chris Walker to help him acclimate and solidify that side of the line.
Walker is a physically imposing 24-year-old at 6-6 and 290 pounds of mostly muscle and a beard several inches long that he'll braid and tuck into his pads during games because opposing players catch him. His size, power and footwork are key things coach Bobby Hauck wanted to bring him in despite Walker previously playing as a backup D-lineman.
Walker is in that position, as a potential left tackle savior, as he was looking for an adventure outside of his home country for his senior season. He heard good things about UM from Forbes and defensive lineman Garrett Hustedt, both of whom were previously in Nebraska with him.
Walker spent the summer working with Forbes and Mayginnes to learn more about UM's O line and see how he could translate his defensive skills. Now he faces D-line players like Hustedt, Jacob McGourin, DeAri Todd and others while facing a defense that could be better than most the Griz offense will see this season.
"With this defence, they're doing a hell of a job and you never know what's going to happen," he offered. "You just have to be quick on your feet and alert and ready to change."
He elaborated: "Playing with Hunter, our body language is great. I feel like I can read it and understand what he's doing so we don't have to talk it out loud and reveal it. I think that we are doing a good job working together."
Montana has had success with offensive line transfers since Hauck's return as they try to recruit based on athletic ability and size. In addition to Forbes and Mayginnes, Cook and Mallory fit this bill.
One guy who isn't a transfer is Casey, who was drafted heavily by Oregon State from the Pac-12 but kept his commitment to UM. He has two starts under his belt, both of which came at right tackle in the final five games of the 2021 season.
While working his way up the roster, he went from 6-5, 260 pounds as a freshman to 297 pounds this season. He credits this to his time in the weight room, eating healthy, and his teammates pushing him.
Although Casey played left tackle in high school, he feels good passing from right tackle. He is striving to improve his fighting to the second tier in the running game so he can be a complete player in what Hauck hopes will be a balanced offensive offense.
"You have to have that edge, you have to be strong, you have to be big," Casey said, "but you also have to be smart, you can't let yourself go.
"Things move so fast in fronts and defensive stunts and the things you see can be so complicated at the college level. You really have to keep your head on your shoulders and you mustn't go too far. »
Casey can't get too far thinking he has a locked starting spot. Neither did Walker, although they both took nearly all, if not all, of the first-team reps to camp, as did Forbes and Mayginnes.
The place that seems to win the most is the right guard. Redshirt rookie Liam Brown is a big kid at 6-5, 307 pounds and took most first-team reps. Redshirt fellow freshman Kila Lincoln also saw first-team representatives once the players put in shells during the third day of camp. On day five, another redshirt freshman, Kevin Good, even took on a few first-team reps.
No starters have been named and no depth charts have been produced. The competition will continue as the offensive line attempts to respond to the bell by filling big shoes.
"In the secondary and the O line, technique is everything," Hauck said. "You have to be refined and disciplined in your technique, otherwise you will be exploited. I would say that young players, when they have trouble, it's because they go outside the framework of their discipline and their technique.